BE CAE & Test Does a Lot of Simulating
It was a pleasure meeting one of COMSOL's Certified Consultants at the Milan Conference last month. Similarly to a number of consultants, and as evident from their name, BE CAE & Test offers both the ability to simulate processes and designs as well as test them. From the island of Sicily, Giuseppe Petrone and Marco Scionti have been working with COMSOL for almost three years now, and have performed a number of projects for customers based on COMSOL Multiphysics. From what I could see from the great booth at the conference, BE CAE & Test does a lot of simulating.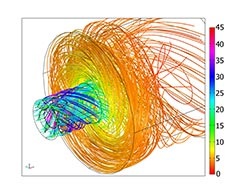 Fluid dynamics of a flameless combustion furnace. The spiral motion is imposed by vanes at the furnace's entrance.
I first noticed Giuseppe as one of the subjects of a story I worked on for COMSOL News, a few years back. Then, he was at the University of Catania and, together with Professor Giuliano Cammarata, had developed a model of a 'flameless' furnace. A flameless furnace does not require a naked flame in order to drive a combustion reaction. They are characterized by a more uniform distribution of temperature throughout the furnace, being able to operate at lower temperatures than normal furnaces, and increased effectiveness in reducing by-products, such as noxious compounds. But it is important that the conditions in the furnace are well-controlled, and Giuseppe and Professor Cammarata were able to model the turbulent fluid dynamics and temperature distribution of the flameless furnace in order to help do this.
Now, three years later, BE CAE & Test are experts in thermal analysis, fluid dynamics, structural analysis and, of course, multiphysics. They have given workshops together with COMSOL in Italy, and have presented in webinars where their expertise was well appreciated. I encourage you to check them out.
---