ETREMA to Talk About Transducer Design using Smart Materials
Julie Slaughter and her team at ETREMA Products are in the enviable position as the sole U.S. provider of the smart material Terfenol-D, and developer of products based on this material. Terfenol-D is said to produce giant magnetostriction that boasts strains 100 times higher than traditional magnetostrictive materials, such as iron. Just imagine the possibilities of applications harnessing this amazing material property. If you're attending the COMSOL Conference in Boston this October, you will hear ETREMA talk about transducer design using smart materials.
Transducer Design and Multiphysics
With Terfenol-D and other engineered materials, you need to build computer models to accurately represent the properties of the material in order to design devices like sensors, actuators, and controllers. Only the multiphysics approach is feasible for this task. Why? The reason is, simply, that at the heart of smart materials, one type of energy transforms into another. This requires the ability to couple the physical effects that represent the different energies, therefore researchers call upon COMSOL Multiphysics to get the job done.
At the COMSOL Conference 2013 Boston, on October 9-11, Julie Slaughter of ETREMA is going to share with us how multiphysics modeling is used for the design of magnetostrictive transducers. She is using COMSOL Multiphysics throughout the different stages in the development process, including conceptual design, optimization, proof-of-concept, and design verification.
The simulation incorporates the following comprehensive suite of models:
Single-physics models

Magnetic
Mechanical
Acoustic
Thermal

Nonlinear models

Magnetic
Magnetostrictive

Linear coupled models
The researchers have validated simulation results by experimental data with great agreement. This simulation project helped ETREMA develop products such as the CU18A Ultrasonic Actuator. Don't miss the opportunity to listen to Julie and learn more about the design of magnetostrictive transducers at the conference this fall.
About Julie Slaughter
Dr. Julie Slaughter received PhD in Engineering Mechanics from Iowa State University in 1997. Now a Senior Engineer at ETREMA Products, Inc., she works on magnetostrictive transducer research and development for defense and industry applications, with a specialty in underwater acoustic transducer performance predictions. She is involved in both linear and nonlinear modeling of electromagnetic, mechanical, acoustic, and thermal aspects of transducer design. Verifying simulations with experimental data is a primary focus of her work.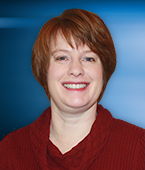 Julie Slaughter,
Senior Engineer,
ETREMA Products, Inc.