How to Model Multiphysics in Multimaterial?
Dr. Raj Thiagarajan is a prolific producer of interesting research articles ranging from waste-water treatment to acoustics metamaterials, and lots in between. As the Managing Director at ATOA ("Atom TO Application") Scientific Technologies, a COMSOL Certified Consultant, Raj has had to simulate all types of applications. Now he will show you how to use multiphysics simulations in multimaterial and composite product design.
Multiphysics Behavior of Multimaterial Composites
A multimaterial composite is a composite where either the matrix or the fibers, or the constituents, are composed of more than one material at macro-scale. An upcoming webinar will investigate the multiphysics behavior of these complex structures; thermal, acoustic, structural and electrostatic properties are all significantly affected when these more complex models are considered. Some can be treated on the macro-scale, while others need to consider the micro- and even nano-scale effects. Raj will show models on all these scales and the multimaterial design space for cost-effective and lightweight product design.
In one of Raj's contributions to the COMSOL Conference, he presents how one can detect damage in composites through measuring electrical conductivity. In a carbon fiber reinforced polymer (CFRP), damage can be done on the micro-scale, through delamination and the breaking of the fibers themselves. It can also happen on the macro-scale, such as when a break occurs in the material itself, affecting both the fibers and the binding matrix together.
The damage is exemplified by the images below that show the measured electrical potential through varying stages of damage through delamination and fiber/matrix breakage. Micro-scale properties (the anisotropic electrical conductivity of the fibers) and macro-scale properties (the electrical conductivity of the matrix material) need to be coupled and simulated together.
Electric potential distribution of a whole and delaminated CFRP structure. The electrodes are placed at the top and bottom of the front portion of the multimaterial structure. Images copyright © ATOA Scientific Technologies.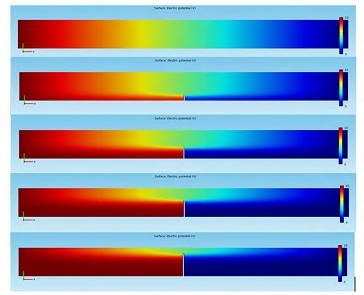 Electric potential distribution due to the extent of the multimaterial (fiber/matrix) damage. Electrodes are placed to the left and right of the multimaterial structure. Images copyright © ATOA Scientific Technologies.
Webinar on Multiphysics, Multiscale, and Multimaterial
Some of the capabilities of ATOAST will be showcased on April 5th when Raj will be the guest speaker in our webinar on "Multiphysics and Multimaterial Design with COMSOL". If you want to learn more about COMSOL's capabilities in multiphysics, multiscale, and multimaterial applications, this webinar is for you.
Further Reading