Introduction to Chemical Engineering Computing, 2
nd

Edition
Bruce A. Finlayson
Within chemical engineering today students and professionals alike need to solve progressively complex problems related to microreactors, refineries, pharmaceutical plants, and fuel cells, among others. Now there is a book to guide readers through solving chemical engineering problems using their computers – using COMSOL Multiphysics and other programs. Readers will also be walked through how to analyze their solutions and confirm their results to ensure problems have been solved correctly.
Features:
Introduction to Chemical Engineering Computing, 2nd Edition, puts an emphasis on problem solving. The author's experience with teaching lends the book its intuitive format. Before tackling problems, readers receive a simple introduction to help understand each program. The wide array of chemical engineering problems that can be solved in this book include:
Equations of state
Thermodynamics and simulation of mass transfer equipment
Process simulation
Mass balances with recycle streams
Chemical reaction equilibria
Fluid flow in two and three dimensions
Each chapter consists of straightforward instructions, figures, and examples to direct readers through all the computer programs and variations of chemical engineering problems. At the end of each chapter, readers can test their knowledge by working problems related to the text, alone or in teams. The problem sets go from easy to difficult and allow readers to improve their skills gradually. Furthermore, the website that accompanies the book spells out the core principles each problem demonstrates, both from a chemical engineering and a computational perspective.
Covering a wide spectrum of chemical engineering problems and disciplines, Introduction to Chemical Engineering Computing is recommended not only for undergraduate and graduate students, but also practicing engineers who are looking to learn how to choose the appropriate computer software program for solving nearly any chemical engineering problem.
About the Author
Bruce A. Finlayson is Professor Emeritus of Chemical Engineering at the University of Washington. He is the author of three previous books, editor of the mathematics section for the seventh and eighth editions of Perry's Chemical Engineer's Handbook, and has authored or coauthored over 100 papers, along with the mathematics chapter in Ullmann's Encyclopedia of Industrial Chemistry. He has served as president and director of the American Institute of Chemical Engineers and as chair of its Computing and Systems Technology (CAST) Division; and as former chair of the Department of Chemical Engineering at the University of Washington. He is also a member of the National Academy of Engineering.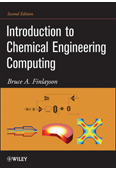 Purchase this book