COMSOL CONFERENCE 2020 NORTH AMERICA
October 7–8
Join us virtually for the COMSOL Conference 2020 North America, now hosted online. You will get a firsthand look at what is possible with multiphysics modeling and numerical simulation, as well as an opportunity to attend a wide range of minicourses to advance your modeling skills. Plus, you will see the latest version of the COMSOL Multiphysics® software in action.
Program Highlights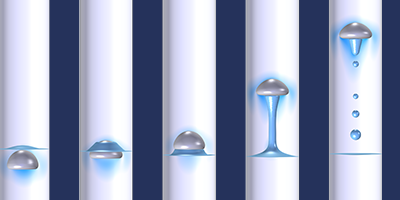 Tech Cafés
Ask your toughest modeling questions to COMSOL technical product managers and application engineers in these interactive sessions on advanced modeling topics, featuring actual support questions from users.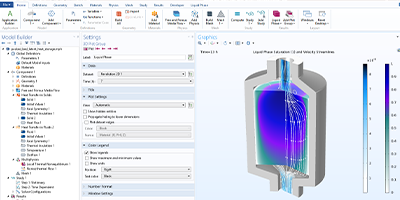 Updated Minicourses
Learn new modeling skills and techniques in lecture-based minicourses geared toward both new and experienced users, with core functionality, introductory, and advanced sessions.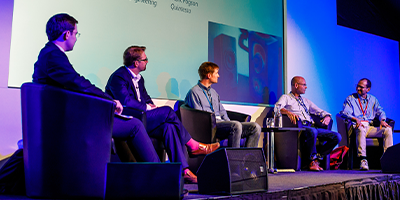 Panel Discussions
Participate in panel discussions featuring speakers across all fields of engineering to learn about what's new in multiphysics simulation in your industry.
Why Attend the COMSOL Conference?
Connect
Present your modeling work to an audience of fellow engineers, scientists, and researchers — and connect with the community in the Tech Café.
Learn
Attend instructor-led and hands-on minicourses covering a variety of physics and modeling areas and learn from other users.
Innovate
Get inspiration for your next modeling project from keynote talks, presentations, and panel discussions featuring speakers across all fields of engineering.
North America Schedule
October 7-8, 2020 | 10 a.m. EDT (UTC-4)
Welcome to the COMSOL Conference
Poster, Paper, and Exhibit Hall Opens
Panel Discussion: Multiphysics Simulation for Product Development
Moderator

Phil Kinnane, COMSOL

---

Panelists




Ercan M. Dede, Toyota Research Institute of North America

Ercan M. Dede received his BS degree and PhD in mechanical engineering from the University of Michigan and an MS degree in mechanical engineering from Stanford University. Currently, he is the group manager of the Electronics Research department at the Toyota Research Institute of North America. His team focuses on vehicle systems involving advanced sensors, power semiconductors, electronics and photonics packaging, and thermal management technology. He has over 100 issued patents and has published more than 85 articles in archival journals and conference proceedings on topics related to design and structural optimization of thermal, mechanical, and electromagnetic systems. He is an author of a book entitled "Multiphysics Simulation: Electromechanical System Applications and Optimization". His team has received two R&D 100 Awards for the development of technologies related to next-generation electronics for electrified vehicles.






Freddy Hansen, Abbott Laboratories

Freddy Hansen received his undergraduate degree in engineering physics from Chalmers University of Technology in Gothenburg, Sweden. He received his master's, PhD, and postdoc in applied physics at Caltech, specializing in plasma physics related to spacecraft plasma propulsion. Following this, he worked nine years at Lawrence Livermore National Laboratory doing research in fluid dynamics, astrophysics, and nuclear fusion. He has also written over 40 research papers, has half a dozen patents, and cocreated a popular college physics textbook. Freddy is currently working at Abbott Laboratories using his expertise in electromagnetics and fluid dynamics to design artificial hearts.




Andri Bezzola, Samsung Research America

Andri Bezzola is a senior staff mechanical engineer at Samsung Research America's Audio Lab in Valencia, California, where he is simulating the electro-mechano-acoustic interactions in loudspeakers. He received his BSc and Msc in mechanical engineering from the Swiss Federal Institute of Technology, Zürich, Switzerland, and in 2014, he received his PhD from the University of California Santa Barbara. Andri holds 3 patents in loudspeaker technologies, is the author of several papers on loudspeaker design and optimization, and was an invited keynote speaker at the COMSOL Conference 2018 Lausanne.

---
Tech Café and Minicourses
Keynote Session
Chris Hopper, ITW

Christopher Hopper is a senior RF engineer for the IBEX group at Illinois Tool Works. He received his PhD in physics, specializing in superconducting RF structures for particle accelerators. He has extensive experience with simulation tools and numerical computation software. His primary responsibilities include modeling and training RF systems, hardware/software testing and validation, and algorithm development.

---

Lauren Lagua, Northrop Grumman Corporation

Lauren Lagua is an acoustics engineer for Northrop Grumman Corporation (NGC) in their Undersea Systems Division. She received her MS from the University of Maryland, Department of Mechanical Engineering, with a focus on nonlinear, viscoelastic material analysis. At NGC, her role focuses on sonar transducer design, manufacturing, and acoustic testing.

---
Tech Café, Minicourses, User Presentations, and Panel Discussion
Panel Discussion: Simulation of Coils and Magnets

Coils and magnets are ubiquitous components in a wide array of electrical systems, from MEMS sensors to power transformers and everything in between. For the development of these devices, simulation plays an important role to help understand, predict, and optimize their performance. As system complexity increases, modeling tools need to provide capabilities for the handling of large geometries, interaction of different physics phenomena, and nonlinear material properties — while still producing robust and accurate simulation results.

Attend this panel to gain insight into advances in multiphysics modeling software and how it helps companies tackle today's electromagnetics design challenges. Hear directly from our panel of experienced users of COMSOL Multiphysics® on how they apply the COMSOL® software to electrical device and coil design for their product development.

Panelists:




Nirmal Paudel, ABB

Dr. Nirmal Paudel is the senior R&D engineer at ABB's Medium Voltage Instrument Transformers & Sensors in Pinetops, NC. He has been involved in developing new instrument transformers, sensors, and power harvesting devices for medium-voltage use cases. He has been managing multiple R&D projects and leading the numerical simulations activities for this local business unit. Prior to joining ABB, he worked as an applications engineer and team leader at COMSOL, Inc. Dr. Paudel received his MSEE and PhD in electrical engineering from the University of North Carolina at Charlotte in 2009 and 2012, respectively. His research interests are electromagnetics, multiphysics simulation, and power and energy systems.






Alex Pokryvailo, Spellman High Voltage Electronics Corporation

Alex Pokryvailo (M'05–SM'07) was born in Vyborg, Russia. He received MSc and PhD degrees in electrical engineering from Leningrad Polytechnic Institute in 1975 and 1987, respectively. He was with Soreq NRC, Yavne, Israel. He is currently the director of research with Spellman High Voltage Electronics Corporation, Hauppauge, NY, USA. He studied switching arcs, designed SF6-insulated switchgears, and researched the interaction of flames with electromagnetic fields. He has published over 140 articles and two textbooks (in Hebrew). He holds more than 20 patents pertaining to HV technology. His current research interests include the design of HV high-power switch-mode power supplies, pulsed power, insulation testing, multiphysics simulations, fast diagnostics, and corona discharges.

---
Tech Café, Minicourses, User Presentations, and 1-on-1 Support Sessions
Tech Café, Minicourses, User Presentations, and 1-on-1 Support Sessions
Happy Hour and Voting for Best Poster Award
Welcome to the COMSOL Conference
Tech Café, Minicourses, and User Presentations
Tech Café, Minicourses, User Presentations, and Panel Discussion
Panel Discussion: Simulation Apps
Tech Café, Minicourses, User Presentations, and 1-on-1 Support Sessions
Tech Café, Minicourses, User Presentations, and 1-on-1 Support Sessions
Closing Remarks and Awards Ceremony
Get ready to connect, learn, and innovate. Join fellow engineers and researchers for two days of learning, talks by industry experts, and presentations featuring multiphysics simulation.
Register
Sponsors
Find turnkey solutions to your design challenges by visiting the exhibit hall at the COMSOL Conference 2020 North America.
Sponsor & Exhibitor Application
Contact
Registrar
{{confReg.user.first_name}} {{confReg.user.last_name}}
{{confReg.office_name}}
{{confReg.user.office_phone}}