Acoustics and Vibrations Analysis in COMSOL Multiphysics® - Archived
This is a recording of a webinar that originally aired on May 30, 2019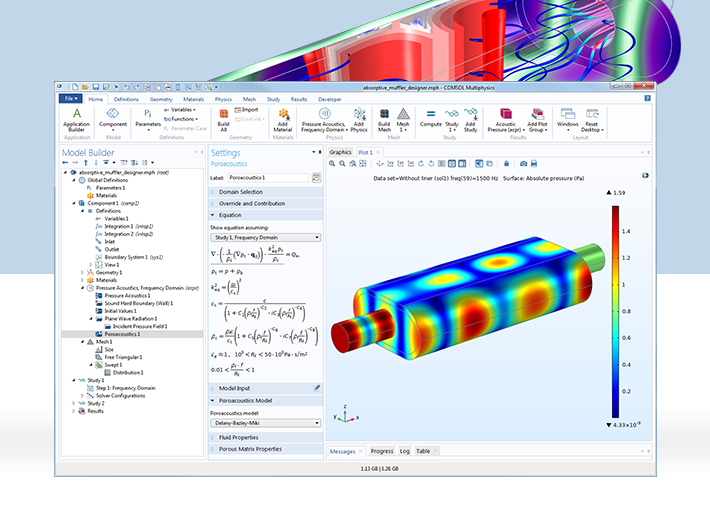 Tune into this webinar if you want to learn about modeling acoustic applications like exhaust and muffler systems, car cabins, microphones, mobile devices, hearing aids, loudspeakers, and building acoustics.
Acoustics modeling allows for the analysis of the generation, propagation, reflection, transmission, scattering, and absorption of acoustic waves in solids and porous and fluid media. This session will discuss some of the main aspects of modeling acoustics phenomena, addressing application areas such as automotive, underwater, electroacoustics, architectural, and aeroacoustics.
In this webinar, we will explain how to simulate structural vibrations and acoustics in the COMSOL Multiphysics® software, as well as how these and other phenomena may be coupled in acoustic and other mechanical systems. In addition, we will discuss more advanced topics such as nondestructive testing, aeroacoustics, thermoacoustics, nonlinear acoustics, and ray acoustics. This presentation will also include a live demo and a Q&A session.
Register for Acoustics and Vibrations Analysis in COMSOL Multiphysics®
Log in or sign up to register. A COMSOL Access account is required to attend Acoustics and Vibrations Analysis in COMSOL Multiphysics®.
Archived Webinar Details
Speaker
Ajit Bhuddi
COMSOL
Ajit Bhuddi works as an applications engineer at COMSOL. He received his PhD in mechanical engineering from François Rabelais University, where he predicted the vibroacoustic behavior of fluid-filled pipes using the wave finite element method.