Simuleringsapplikasjoner i undervisning – 45 min webinar - Archived
This is a recording of a webinar that originally aired on 3. september 2020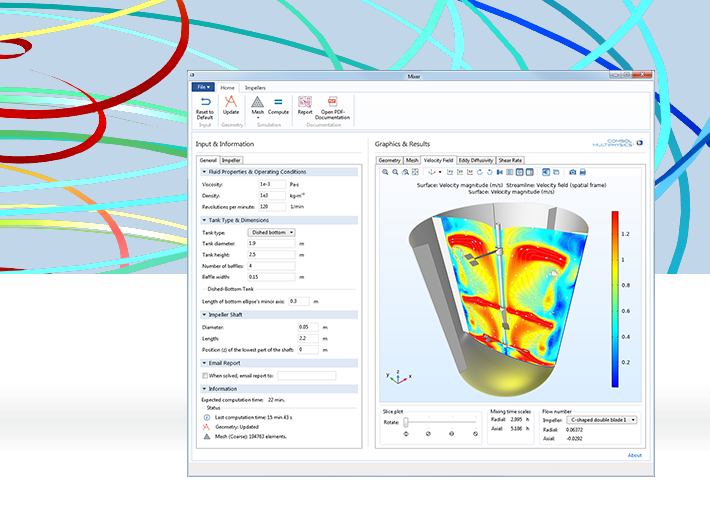 I dette webinaret ser vi på hvordan du kan tilgjengeliggjøre multifysikksimuleringer for studenter. Vi viser hvordan du enkelt går fra en modell til en applikasjon i COMSOL Multiphysics®. Denne applikasjonen vil ha et egendefinert brukergrensesnitt der studenten kan endre parametere, kjøre simuleringen og visualisere resultatene. Applikasjonene kan kompileres til en executable, som studenten kan kjøre på egen datamaskin, eller deles på en server.
Det er mange fordeler med applikasjoner i undervisningsøyemed.
Studentene kan eksperimentere med fysikken i ro og fred
De egner seg godt som hjemmeundervisningsverktøy
Applikasjoner kan brukes som supplement eller erstatning for laboratorieforsøk
Det gir stor gjenbruksverdi: har du laget en app kan den brukes i flere kurs
De kan enkelt spres til svært mange studenter
Bruk av simuleringsapplikasjoner gir trening i simuleringsverktøy
De er enkle å lage og lette å bruke
Vi utforsker måter å bruke applikasjoner i undervisningen, og ser eksempler på applikasjoner brukt ved ulike universiteter. Så skal vi demonstrere hvordan man bruker verktøyene som følger med COMSOL Multiphysics® til å lage en applikasjon, og til sist se på noen tilgjengelige ressurser.
Dette er det tredje webinaret i en serie på tre frittstående webinarer om simuleringer i undervisning, del en og to kan du finne her:
Webinaret er gratis, og ingen forkunnskaper behøves. Logg deg på fra nettbrett, datamaskin eller telefon, og bli inspirert av multifysikksimuleringer.
The webinar will be held in Norwegian. Please contact us if you are interested in a presentation in English.
Archived Webinar Details
Speaker
Nikolai Høiland Ubostad
COMSOL
Nikolai Ubostad jobber som applikasjonsingeniør i COMSOL Norge. Han forsvarte doktorgraden i matematikk ved NTNU i 2019, og ble ansatt i COMSOL samme år.