COMSOL CONFERENCE 2020 BOSTON
October 7-9
Join us at the COMSOL Conference 2020 Boston for a firsthand look at what is possible with multiphysics modeling and numerical simulation. Plus, you will see the latest version of the COMSOL Multiphysics® software in action.
New This Year
Tech Cafés
Ask your toughest modeling questions to COMSOL technical product managers and application engineers in these interactive sessions on advanced modeling topics, featuring actual support questions from users.
Updated Minicourses
Learn new modeling skills and techniques in lecture-based minicourses geared toward both new and experienced users, with core functionality, introductory, and advanced sessions.
Why Attend the COMSOL Conference?
Connect.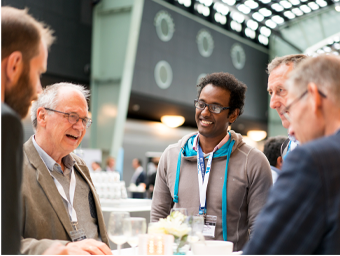 Present your modeling work to an audience of fellow engineers, scientists, and researchers — and connect with the community in the Tech Café.
Learn.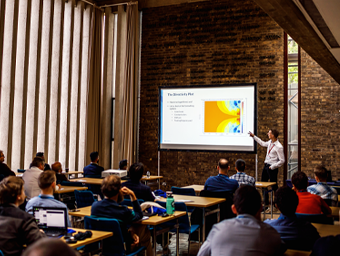 Attend instructor-led and hands-on minicourses covering a variety of physics and modeling areas and learn from other users.
Innovate.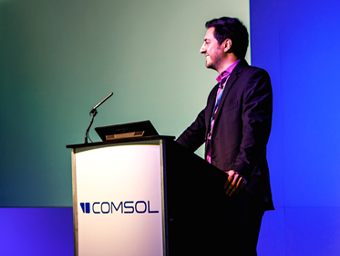 Get inspiration for your next modeling project from keynote talks, presentations, and panel discussions featuring speakers across all fields of engineering.
Schedule October 7-9
Welcome to the COMSOL Conference
Minicourses and Tech Café
® for New Users
COMSOL Multiphysics

This minicourse is for those who are just starting out with COMSOL Multiphysics® or want a refresher on the user interface (UI) and modeling workflow. During this session, the fundamentals of using the COMSOL® software will be demonstrated.

---

Overview of Chemical Reaction Modeling for New Users

Learn how to model chemical kinetics and reaction engineering capabilities, including batch/CSTR/plug flow reactors, CHEMKIN® file import, and the import of thermodynamic data. We will also discuss chemical species transport through diffusion, convection, and migration in electric fields, as well as reacting flow that involves fluid flow, heat transfer, and mass transfer with reactions. We conclude the course by reviewing and exemplifying the functionality for heterogeneous catalysis and packed bed reactors. We show how to model transport and reactions at the microscopic porous particle scale simultaneously with macroscopic transport at the bed scale.

---

Tech Café: Heat Transfer
Demo Stations, Exhibition, and Poster Session Open
Minicourses and Tech Café
Using the Mesher

In this minicourse, we will walk you through the mesh generation techniques that are available to you in the COMSOL Multiphysics® software. We will introduce you to basic meshing concepts, such as how to tweak the meshing parameters for unstructured meshes and how to create structured meshes and meshes tailored for specific physics, such as fluid flow. You will also learn how to visualize the important properties of a mesh.

---

Overview of Fluid Flow and Conjugate Heat Transfer for New Users

In this introductory course, you will get an overview of the general functionality for laminar and turbulent flow involving heat transfer. Conjugate heat transfer is automatically accounted for when using one of the predefined Nonisothermal Flow or Conjugate Heat Transfer multiphysics couplings. We will explore the various compressibility settings and learn to what extent thermal variations in the flow field are taken into account for the different options. In turbulent nonisothermal flow, we also have to consider turbulent Prandtl number effects, wall treatment, and buoyancy-induced turbulence.

---

Tech Café: Geometry & Preprocessing
Minicourses, Tech Café, and Panel Discussion
Using the Geometry Tools

Attend this minicourse to learn about the tools for generating a geometry with COMSOL Multiphysics®. We will cover how to efficiently build geometry that can be parameterized and look into how to carry out tasks such as creating a sketch with dimensions and constraints, generating 2D cross sections of 3D objects, and more. Generating a geometry also involves preparing selections for physics settings. By using the right selection tools, you can easily automate the modeling workflow, even when it involves simulations on widely different versions of a geometry.

---

Advanced Topics in Acoustics

In this minicourse, you will learn how to solve acoustically large models; that is, models that include many wavelengths. We will discuss what physics interface to select in the frequency domain and time domain, as well as best practices for meshing and the selection of the appropriate solver.

To model applications with high sound pressure levels or high particle velocities, it may be necessary to include nonlinear acoustic effects. You will get an introduction of when to select a specific model, the model applicability, and when nonlinear phenomena are of importance in general.

Finally, you will get an introduction to the various material models that are part of the Acoustics Module. This includes models for modeling porous materials, volumetric damping in fluids, as well as damping due to thermoviscous effects in microacoustic applications. We will touch upon the use of parameter estimation to determine some of the material parameters in these models that can be hard to determine.

---

Tech Café: Fluids
Panel Discussion: Simulation of Coils and Magnets

Coils and magnets are ubiquitous components in a wide array of electrical systems, from MEMS sensors to power transformers and everything in between. For the development of these devices, simulation plays an important role to help understand, predict, and optimize their performance. As system complexity increases, modeling tools need to provide capabilities for the handling of large geometries, interaction of different physics phenomena, and nonlinear material properties — while still producing robust and accurate simulation results.

Attend this panel to gain insight into advances in multiphysics modeling software and how it helps companies tackle today's electromagnetics design challenges. Hear directly from our panel of experienced users of COMSOL Multiphysics® on how they apply the COMSOL® software to electrical device and coil design for their product development.

Panelists

Nirmal Paudel, ABB

---
Minicourses, Tech Café, and Panel Discussion
Working with CAD Data

Importing CAD designs often involves modifying the geometry after the import; for example, to remove unwanted details, create additional computational domains, or even restore missing faces. Besides demonstrating the tools for these tasks, this minicourse will also cover best practices for ensuring that physics settings do not need to be reapplied after a CAD file is reimported and how to interface CAD software using the LiveLink™ interface for an efficient optimization of CAD designs.

---

Overview of Structural Mechanics Modeling for New Users

In this minicourse, you will learn about the basics of structural analysis. We will address static and dynamic analysis. In static analysis, you will first learn about linear analysis, when it is appropriate, and issues to watch out for. We will also focus on the fundamentals of how stresses and strains in a structure are computed. This will be followed by an understanding of the need for nonlinear analysis and issues to watch out for. Finally, we will learn about dynamic analysis, when it is appropriate, and issues to watch out for. In dynamic analysis, you will learn how to set up time-dependent and frequency domain simulations and focus on how to interpret complex-valued results from frequency domain analyses.

---

Tech Café: Electromagnetics
Tech Briefs Cocktail Reception
Registration and Breakfast
Minicourses and Tech Café
Developing and Deploying Applications

This minicourse will cover how to create simulation applications using the Application Builder, included in the COMSOL Multiphysics® software. A simulation application has a specialized user interface and it allows for nonspecialists in modeling to benefit from simulations. The minicourse will also give an overview of the different methods of deployment you can use to spread the use of simulation in your organization and to your customers. You will learn how to create standalone applications using COMSOL Compiler™ as well as how to make simulation applications accessible using COMSOL Server™.

---

Overview of Electromagnetics Modeling for New Users

This minicourse provides an overview of the computational electromagnetics capabilities in COMSOL Multiphysics® and the add-on AC/DC, RF, Wave Optics, and Ray Optics modules. Starting from fundamental concepts of electromagnetism, we will see what formulations of Maxwell's equations are available in the various modules and what modeling situations can be addressed. This minicourse is targeted at people who are familiar with the software, but want an introduction to electromagnetics modeling.

---

Tech Café: Electrochemistry/Chemical Engineering
User Presentations and Panel Discussion
Minicourses and Tech Café
Solvers 1: Understanding the Solvers

This minicourse will introduce you to the most important solver algorithms, from a top-down perspective, relevant for solving problems in COMSOL Multiphysics®. We will describe practical aspects of implicit time stepping and address some of the challenges of solving nonlinear problems.

---

Advanced Topics in Fluid Flow

In this minicourse, we will discuss resolution requirements for laminar and turbulent flow, when and why stabilization is necessary, and the differences between consistent and inconsistent stabilization. This is followed by a theoretical overview of the various multiphase flow formulations available in the CFD Module. We will also take a closer look at the arbitrary Lagrangian–Eulerian (ALE) formulation applied in moving mesh simulations, settings options for the most common multiphysics couplings, and the default solver suggestions.

---

Tech Café: Acoustics
Poster Presentation Session
Registration and Breakfast
Minicourses and Tech Café
Solvers 2: Solving Larger Models

This minicourse will give an introduction to high-performance computing (HPC). We will discuss performance bottlenecks when solving larger models and describe the key elements in addressing these bottlenecks when it comes to selecting hardware and solvers. We will discuss examples of larger simulations and give you a flavor of what to expect from the latest HPC technology for the COMSOL® software. Special attention will be given to large sparse matrix problems, often at the core of any simulation in COMSOL Multiphysics®.

---

Advanced Topics in Electromagnetics

In this minicourse, you will learn how you can use the Wave Optics Module and COMSOL Multiphysics® to simulate large optical systems such as lens systems and laser cavity systems. These problems are typically extremely difficult for wave optics software. We will show how and why the COMSOL® software can solve these difficult problems. We will also show some advanced and practical application examples.

---

Tech Café: Structural Mechanics
Minicourses and Tech Café
Advanced Meshing Topics

This minicourse gives you further details of the meshing functionality in the COMSOL Multiphysics® software. You will learn a useful technique for meshing imported CAD designs by hiding small geometry features from the mesher. We will demonstrate the available tools for adapting meshes — that is, changing the size and distribution of elements, for example — according to error estimates in the solution. The minicourse will also explore the editing and repairing tools that are available for imported mesh data.

---

Advanced Topics in Heat Transfer (Mostly Radiation)

In this minicourse, you will learn how to include surface-to-surface radiation in your models and how to make optimal use of the COMSOL® software's capabilities. In particular, learn how to define the radiation direction using the domains and layer opacity properties, how to define wavelength-dependent properties, and how to speed up computations using symmetries and radiation groups.

We will also present a number of predefined variables that are useful both for defining models and postprocessing operations. Among them, wall temperature variables are especially important to distinguish the temperature between two sides of a layer or between the wall temperature and the temperature in the thermal boundary layer of the fluid next to it.

This will bring us to thin structure layers and other thin structures in heat transfer models. You will learn how to choose between the different models, how to define thin structures' properties, and how to perform postprocessing operations.

You will also learn how to check the energy balance for a model or model parts using predefined variables.

---

Tech Café: Solvers
Panel Discussion and Awards Ceremony
Demo Stations, Exhibition, and Poster Session Close
Minicourses and Tech Café
Understanding the Optimization Module

After attending this minicourse, you will know when to apply the different types of optimization available in the Optimization Module. The minicourse will include live demonstrations for simple problems, but you will also see more advanced examples from the Application Library. Sensitivity analysis is included in the COMSOL® software, and we will show how it can be used to gain more information about the behavior of your model in an efficient way.

---

Advanced Topics in Structural Mechanics

In this minicourse, you will learn how to model some problems within the field of structural mechanics. The course covers contact analysis, frames, and geometric nonlinearity; combining different structural element types; and user-defined material models.

You will learn how to set up contact problems in different structural mechanics interfaces and how to apply the proper boundary conditions and solver settings. You will also get a brief overview of the concepts of geometric nonlinearity and frames.

When modeling real-world structures, you often have to combine different structural element types, such as solids, shells, and beams. In this course, you will get an introduction to the different methods for coupling such elements.

COMSOL Multiphysics® contains a large number of built-in material models for solid materials. If these are not sufficient, you can add your own models using several different methods. Here, you will learn how to do so by equation-based modeling and programming in C.

---

Tech Café: Postprocessing and Visualization
Transportation
From Boston Logan Airport
Take the Blue Line Inbound from Airport Station to Park Street Station. Take the Green Line D Branch from Park Street Station to Riverside Station. Riverside Station is 2 miles from the Boston Marriott Newton Hotel. Shuttle service is provided by the hotel to the conference.
Accommodations
We recommend that conference attendees stay at the conference venue, the Boston Marriott Newton. During the conference, all meals and refreshments are provided for you by COMSOL, and all events are conveniently located in the hotel itself. There is free parking for conference attendees. Book by September 18 to receive the discounted room rate of $209/night.
Get ready to connect, learn, and innovate. Join fellow engineers and researchers for three days of learning, talks by industry experts, and presentations featuring multiphysics simulation.
Register
Sponsors
Find turnkey solutions to your design challenges by visiting the exhibit hall at the COMSOL Conference 2020 Boston.
Sponsor & Exhibitor Application
Contact
Registrar
{{confReg.user.first_name}} {{confReg.user.last_name}}
{{confReg.office_name}}
{{confReg.user.office_phone}}