Simulate real-world designs, devices, and processes with multiphysics software from COMSOL.
General-purpose simulation software based on advanced numerical methods.
Fully coupled multiphysics and single-physics modeling capabilities.
Complete modeling workflow, from geometry to results evaluation.
User-friendly tools for building and deploying simulation apps.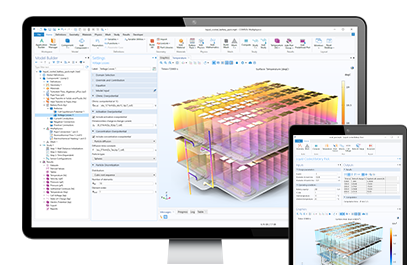 Understand, Predict, Innovate, Optimize
About the COMSOL Product Suite
The COMSOL Multiphysics® software brings a user interface and experience that is always the same, regardless of engineering application and physics phenomena.
Add-on modules provide specialized functionality for electromagnetics, structural mechanics, acoustics, fluid flow, heat transfer, and chemical engineering. Choose from a list of LiveLink™ products to interface directly with CAD and other third-party software. Deploy simulation applications with COMSOL Compiler™ and COMSOL Server™.
COMSOL Multiphysics®
Create physics-based models and simulation applications with this software platform. The Model Builder enables you to combine multiple physics in any order for simulations of real-world phenomena. The Application Builder gives you the tools to build your own simulation apps. The Model Manager is a modeling and simulation management tool.
SIMULATION APP DEPLOYMENT
COMSOL Compiler™
Compile apps into standalone executable files that can be run by anyone, anywhere.
SIMULATION APP DEPLOYMENT
COMSOL Server™
Manage and distribute your organization's apps and run them via web browser or thin client.
Ready to See COMSOL Multiphysics® in Action? Join Us Live.
Learn more about the COMSOL Multiphysics® software at one of our upcoming events.
Browse to find a format and topic that match your interests.
See How Our Customers Are Using COMSOL Multiphysics®
Users of the COMSOL Multiphysics® software are driving innovation in industry and research worldwide. Here are some of their inspiring stories.
Learning Resources for All Levels of Expertise
Get the most out of the COMSOL Multiphysics® software and multiphysics simulation via these learning resources.
Need More Information?
We are here to assist you. Contact COMSOL to talk to someone about evaluating the software, reviewing pricing, or using multiphysics simulation for your research or business needs.