COMSOL CONFERENCE 2020 Grenoble
October 14–16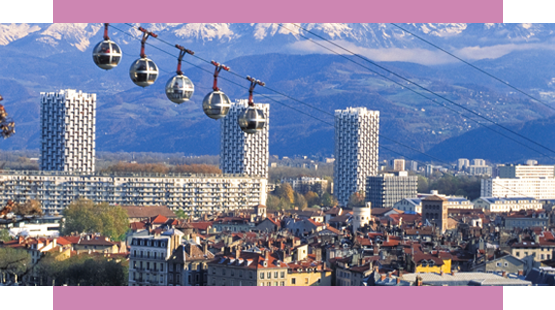 COMSOL CONFERENCE 2020 Grenoble
October 14–16
Join us at the COMSOL Conference 2020 Grenoble for a firsthand look at what is possible with multiphysics modeling and numerical simulation. Plus, you will see the latest version of the COMSOL Multiphysics® software in action.
NEW THIS YEAR
Tech Cafés
Ask your toughest modeling questions to COMSOL technical product managers and application engineers in these interactive sessions on advanced modeling topics, featuring actual support questions from users.
Updated Minicourses
Learn new modeling skills and techniques in lecture-based minicourses geared toward both new and experienced users, with core functionality, introductory, and advanced sessions.
WHY ATTEND THE COMSOL CONFERENCE?
Connect.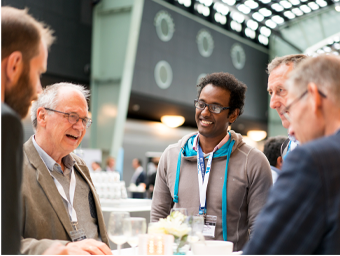 Present your modeling work to an audience of fellow engineers, scientists, and researchers — and connect with the community in the Tech Café.
Learn.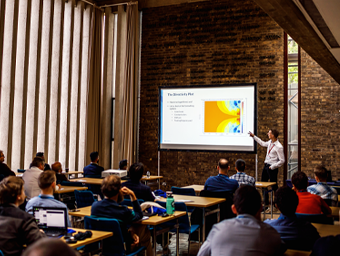 Attend instructor-led and hands-on minicourses covering a variety of physics and modeling areas and learn from other users.
Innovate.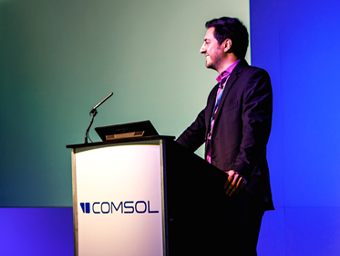 Get inspiration for your next modeling project from keynote talks, presentations, and panel discussions featuring speakers across all fields of engineering.
Welcome to the COMSOL Conference
Minicourses
Tech Café: Heat Transfer
® for New Users
COMSOL Multiphysics

This minicourse is for those who are just starting out with COMSOL Multiphysics® or want a refresher on the graphical user interface (GUI) and modeling workflow. During this session, the fundamentals of using the COMSOL® software will be demonstrated.

---

Overview of Chemical Reaction Modeling for New Users
Demo Stations, Exhibition, and Poster Session Open
Minicourses
Tech Café: Geometry & Preprocessing
Using the Mesher
Overview of Fluid Flow and Conjugate Heat Transfer for New Users
Minicourses
Tech Café: Electromagnetics
Using the Geometry Tools
Advanced Topics in Acoustics
Tech Café: Fluids
Working with CAD Data
Overview of Structural Mechanics Modeling for New Users
Registration and Breakfast
Minicourses
Tech Café: Electrochemistry/Chemical Engineering
Developing and Deploying Applications
Overview of the Electromagnetics Modules for New Users
User Presentations and Panel Discussion
Minicourses
Tech Café: Acoustics
Solvers 1
Advanced Topics in Fluid Flow
Poster Presentation Session
Minicourses
Tech Café: Structural Mechanics
Solvers 2
Advanced Topics in Electromagnetics
Minicourses
Tech Café: Solvers
Understanding the Optimization Module
Advanced Topics in Heat Transfer (Radiation)
Minicourses
Tech Café: Postprocessing and Visualization
Advanced Meshing Topics
Advanced Topics in Structural Mechanics
Transportation
BY PLANE
From Lyon Saint-Exupéry Airport: Take the shuttle from the airport to Grenoble train station. More information and reservations here : www.ouibus.com
shop.flixbus.com/
From Geneva Airport: Take the shuttle from the airport to Grenoble train station. More information and reservations here : www.ouibus.com
shop.flixbus.com/
BY TRAIN
WTC Grenoble Convention Center is located right next to the train station. en.oui.sncf/en
From Grenoble Train Station
Once you arrive at the Grenoble train station, please take the underground tunnel and you will arrive at the Robert Schuman square. The World Trade Center is on your left.
BY CAR
Coming from Lyon on the A48, take exit 16 "Grenoble Gares/Europole/Polygone Scientifique" and follow the direction Europole. Coming from Geneva and Chambéry on the A41: take the southern ring road, follow the direction of Lyon, take exit 2 "Europole/Fontaine centre/Grenoble Gare" and follow the direction of Europole.
PARKING
Accommodations
Details coming soon!
Get ready to connect, learn, and innovate. Join fellow engineers and researchers for three days of learning, talks by industry experts, and presentations featuring multiphysics simulation.
Register