Kobelco Research Institute, Inc.
---
Address and Contact Information
Kobelco Research Institute, Inc.

Computational Science Department
Takatsuka-dai 1-5-5, Nishi-ku, Kobe, Hyogo 651-2271, Japan.
Phone: +81-78-992-6059
Fax: +81-78-992-5830
Website: www.kobelcokaken.co.jp
Contact us
Affiliated to KOBE STEEL, LTD and headquartered in Kobe, Japan, Kobelco Research Institute, Inc., employs more than 1300 employees, including many with PhDs.
From analysis, testing, and measurement to manufacturing and related testing, Kobelco Research supports customer business through a variety of approaches.
Analysis
Support for Solving R&D and Manufacturing Problems in All Types of Industries
The analytical and technical strength of Kobelco Research provides support for research, development, and manufacturing problems in all types of industries addressing materials, organic, environmental, and physical analysis.
Prototype/Experiments
Support for New Product and Process R&D, Including Ferrous and Nonferrous Materials
Services performed include clean room, soil, and other environmental testing; materials-related stress measurement; and nondestructive testing (detection and evaluation of surface and internal defects in materials and structures, integrity and quality evaluation, and detection and evaluation of materials damage and degradation).
Testing
Support for R&D Work as Industry Structures Change
As industry structures change, demand for new corrosion-resistant materials and surface treatment technologies is increasing. When new technology development in these areas is needed, the research and development work itself can be performed on a contract basis.
Multiphysics Expertise and Scope of Business
Battery and electrochemistry
Chemical engineering
Vibration and acoustics
CFD
Structural mechanics, thermal stress, and fracture
Electromagnetics (motor, invertor, EMC, etc.)
Heat transfer and thermal management
Coating and printing
Corrosion and erosion
Modeling and optimization using machine learning
Analysis service, model construction, and modeling consultation
Testing, measurement, prototype experiments, and proof of concept (POC) modeling
Simulation Technologies for Li-Ion Batteries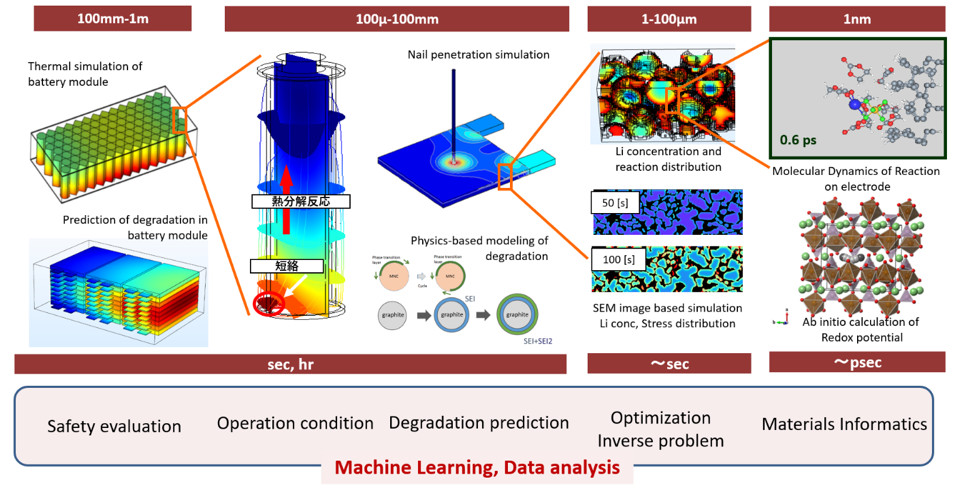 Equivalent circuit model for battery management system
Physicochemical simulation using FIB-SEM image
Battery safety simulations, nail penetration tests, and burning tests
Battery degradation simulation
Machine learning and deep learning with modeling in COMSOL Multiphysics®