COMSOL Certified Consultants
---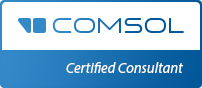 COMSOL Certified Consultants have extensive experience using the COMSOL Multiphysics® platform product as well as the many add-on and interfacing products. You may benefit from contacting a certified consultant if you are seeking guidance on starting a new simulation project or looking for ready-to-run models and reports with an in-depth analysis of the simulation results.
Browse the list of COMSOL Certified Consultants by geographic location below or use the search feature to find consultants that offer expertise in specific areas.
COMSOL designates certain persons or companies to be Certified Consultants based on that person or company's reported proficiency with using COMSOL's software products and based on standards that COMSOL sets and revises from time to time. COMSOL does not participate in any Certified Consultant's delivery of products or services. COMSOL has not made any determination that any particular Certified Consultant possesses the requisite skills or experience for your needs and encourages you to make inquiry of a Certified Consultant in order to make that determination for yourself.