Model and Optimize Semiconductor Devices in COMSOL® - Archived
This is a recording of a webinar that originally aired on February 23, 2023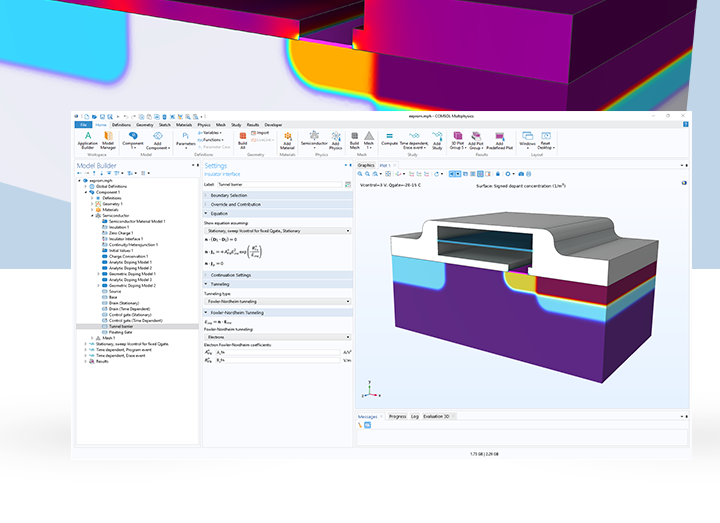 Semiconductors are essential components that form the foundation of electronic devices, controlling and driving the flow of electricity and data. The COMSOL® software is a powerful platform able to accurately model and simulate a wide range of electronic devices, including:
Bipolar transistors
Metal-semiconductor field-effect transistors (MESFETs)
Metal-oxide-semiconductor field-effect transistors (MOSFETs)
Insulated-gate bipolar transistors (IGBTs)
Schottky diodes
P-N junctions
The Semiconductor Module, an add-on to COMSOL Multiphysics®, includes a wide range of functionality for modeling semiconductors and analyzing their operation under different conditions. In addition, a ready-made Schrödinger-Poisson Equation interface enables the modeling of quantum-confined systems, such as quantum wells, wires, and dots. COMSOL® also includes unique multiphysics capabilities and add-on products for designing semiconductors and optimizing their manufacturing, such as the Plasma Module and Chemical Reaction Engineering Module.
Join us for this webinar to learn more about the modeling of semiconductors and the devices that use them.
Register for Model and Optimize Semiconductor Devices in COMSOL®
To register for the event, please create a new account or log into your existing account. You will need a COMSOL Access account to attend Model and Optimize Semiconductor Devices in COMSOL®.
For registration questions or more information contact info-uk@comsol.com.
Archived Webinar Details
This is a recording of a webinar that originally aired on February 23, 2023