2 Video Discussions on Multiphysics Simulation of Optics and Photonics
Why use multiphysics software for optical simulations? This is one of the questions that Laser Focus World Senior Editor John Wallace asks in a 2-part video chat with Chris Boucher, technical product manager at COMSOL. If you are new to simulation, check out the first video, Part 1, "Introduction to COMSOL Multiphysics®", to see how simulation can benefit optical product design. In Part 2, "COMSOL Applications in Optics and Photonics", Wallace and Boucher discuss why you should simulate more than just optics. Watch the two video discussions and get a summary of the highlights below.
Part 1: Introduction to COMSOL Multiphysics®
Making the Case for the Simulation of Waves and Rays
John Wallace started out the interview commenting on the purpose of the Laser Focus World Quick Chats, which provide practical information to optics and photonics engineers for use in their R&D work. To cover the topic of simulation, Wallace planned a 10-minute conversation with Chris Boucher of COMSOL. However, as the interview went on, it became clear that there was more to the topic, so they conducted a longer 2-part talk instead. 
The simulation of optics and photonics is used extensively for both commercial and academic work. The optics R&D community was an early adopter of the COMSOL Multiphysics® software for the simulation of optical fibers, plasmonics, laser-material interactions, photonic switches, organic LEDs, and more. Now, you might wonder what drives companies to turn to optical design software in the first place?
Boucher explained why organizations are using simulation for development of optical and photonics devices. On a business level, the main motivation for investing in simulation software is to save time and money in order to get the right products to market faster and at lower cost. On an engineering level, by virtually testing a design, simulation can help to increase understanding and predict performance before building a physical prototype.
"With simulation, you can look into an object in ways you couldn't do in a real-world physical object. For example, if you are doing an analysis of electromagnetic wave propagation, you can easily access the electric field amplitude at any point and at any time, which wouldn't be possible through experiments in the physical domain," said Boucher.
Plan, Diagnose, and Optimize Designs
Wallace and Boucher went on to discuss what types of optical devices can be simulated, giving a brief background of the numerical methods used to analyze optical waves and rays. The methods used for optical simulation differ based on optical size and are divided in two major categories:
When the light wavelength is much smaller than the geometrical size
When the wavelength is about equal to the geometrical size
COMSOL Multiphysics supports both types of scenarios. For the former, ray tracing methods are used to track rays in systems like lenses, mirrors, and structures. For the latter, the finite element method and the beam envelopes method are used to very accurately compute the solution to electromagnetic waves in optical devices such as fibers and waveguides.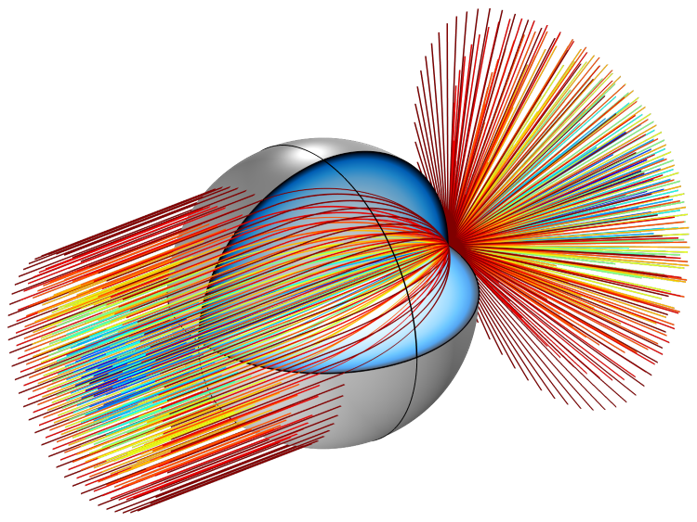 This image of ray tracing through a Luneburg lens was created using the Ray Optics Module.  
"What would drive an engineer to start using COMSOL Multiphysics?" asked Wallace. Typically, simulation software is being introduced for new product development or for improving a product — and sometimes for finding out why an existing product behaves a certain way. "Simulation helps plan, diagnose, and optimize designs, as well as to understand a product by constructing it virtually. Creating a simulation can reduce the number of experiments that have to be run or reduce the number of physical prototypes that have to be built to get a design that meets all requirements," commented Boucher.
Part 2: COMSOL Applications in Optics and Photonics
Don't Simulate Just Optics
In part 2 of the interview, Wallace and Boucher discussed the modeling of systems and products in which optics phenomena interact with and are coupled to other physics. A special strength of COMSOL Multiphysics is that it can compute the solution to any number of different physics and any number of couplings. This helps with design tasks such as predicting thermal deformation of a lens caused by heating when light passes through it, commonly known as structural-thermal-optical performance (STOP) analysis. Other applications include structural deformation of optical fibers, biophotonics, laser welding, electrowetting lenses, and more.
The capabilities of the COMSOL® software for optics simulation don't stop with multiphysics. Models can not only include any number of physics but also handle very different scales. This enables modeling of problems that combine optically very large and small entities. The way of handling multiple scales in the same simulation is by applying different methods for various parts of the system. For example, for the optically small object, electromagnetic wave properties are calculated using the finite element method, and in the surrounding large domain, ray optics simulation is used to calculate ray tracing patterns.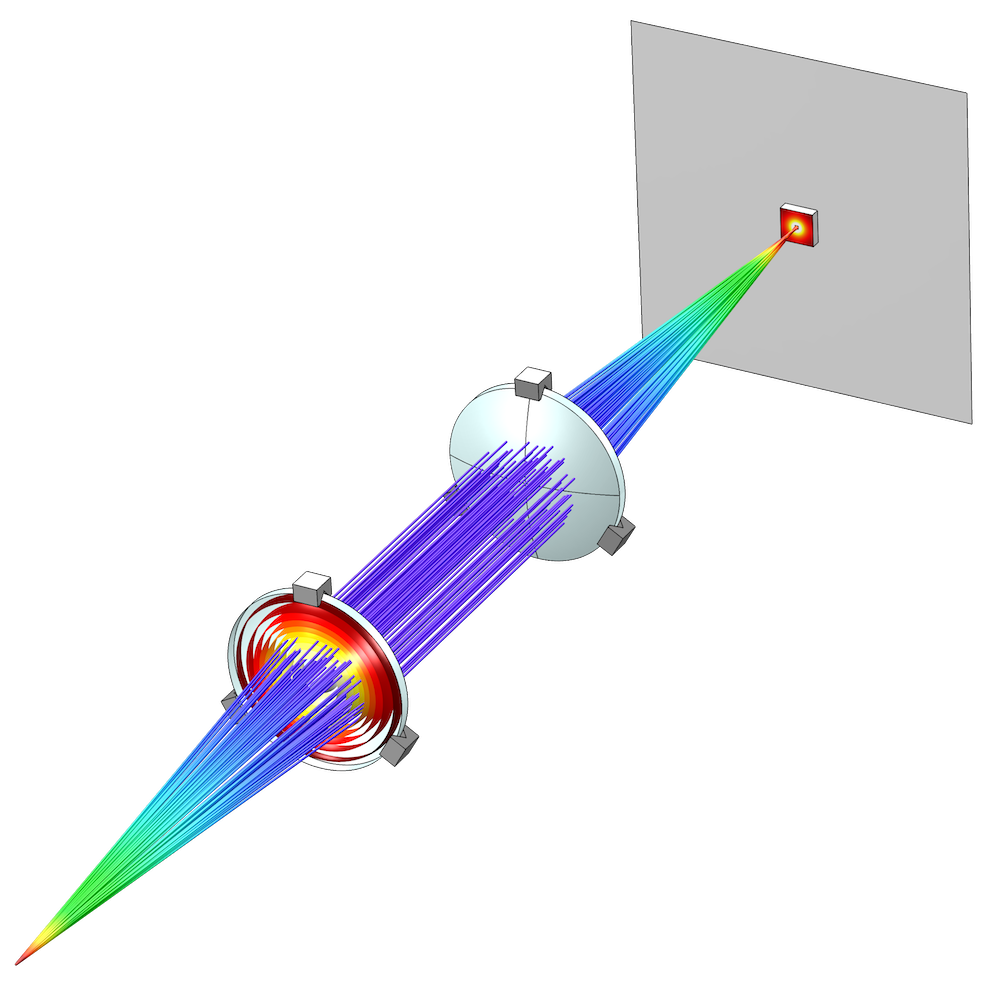 This multiphysics simulation of a high-power laser focusing system solves for geometrical optics and thermal deformation of lenses. 
Automation of Calculations Using Simulation Apps
John Wallace wrapped up the interview by bringing up an interesting aspect of simulation: How do you automate model setup and calculations?
Depending on how comfortable you are using COMSOL Multiphysics, there are different approaches. Running parametric studies is one common way of automating calculations. You simply let the software run repetitive simulations for a set of predefined design parameters. The output generated from such a parametric sweep is often used to optimize a design. 
Another way of automating the use of simulation is for the modeler to produce a specialized simulation app using the Application Builder available in COMSOL Multiphysics. A simulation app created this way has its own customized user interface, making it easy for more people to use simulation without having to be modeling and simulation experts themselves. Apps can be deployed for broader use by creating standalone executables with COMSOL Compiler™, or through web-based access with the COMSOL Server™ software. "You can freely distribute these applications in any ways you see fit, sort of using the COMSOL® software to spin off your own simulation program, powered by COMSOL Multiphysics under the hood, that you can pass out to your coworkers and colleagues," concluded Boucher.
To learn more about the tools for simulating optics and photonics, browse the COMSOL product suite: