A Cooling Story for These Sweltering Days
I have just come back from a bit of a vacation and boy was it hot! Here, a large part of the US has been going through record high temperatures and most of my time was spent trying to keep cool. How nice then to mention a story about cooling.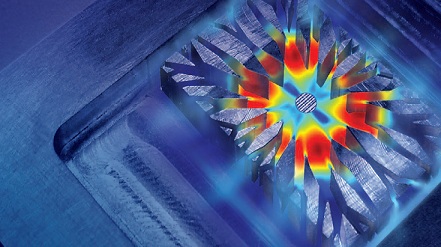 Advanced heat sinks with optimized cooling channel topology are being designed
to cool power electronic components in Toyota hybrid vehicles.
This was a great story that made the front cover of the IEEE Multiphysics Simulation as well as the lead story for COMSOL News. Ercan Dede, Jaewook Lee and Tsuyoshi Nomura all work at The Toyota Research Institute in Ann Arbor, and I must say it's great to see that Toyota also invests in research in Michigan. There they are designing heat sinks (or cold plates), which are mounted to electronics and electrical systems in Toyota's hybrid vehicles.
The idea was to come up with an improved topology that would improve the flow across the back of the heat sink, keeping the heat transfer at a certain level, but reducing the pressure drop. The image shows the great pattern they came up with. They were able to iterate their way to this optimal topology by utilizing the LiveLink for SolidWorks.
A wonderful story about engineering design and you can read it in COMSOL News.
SolidWorks is a registered trademark of Dassault Systemes SolidWorks Corp.