AltaSim Takes on Surface Plasmon Resonance Modeling
We've just got another finished article and layout back for COMSOL News and it looks as great as the others, but for different reasons. We usually ask a couple of our partners to write an article for COMSOL News to provide users with some more technical background to modeling. AltaSim Technologies, who are certified consultants and even run courses in COMSOL, have written an article about surface plasmon resonance.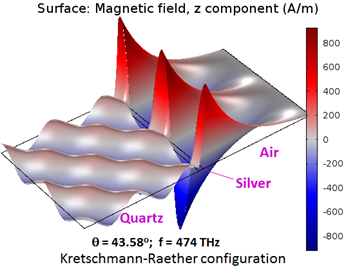 Surface Plasmon Resonance (SPR) is used to detect molecular adsorption on surfaces. It is for technologies ranging from gene assays and DNA sensing, molecular adsorption and desorption on surfaces, surface controlled electrochemical reactions, to nano-scale optical and photonic devices.
The authors compare two different configurations (Kretschmann-Raether and Otto) and show how modeling should be performed in order to guarantee accurate measurements will be obtained if either one is used. It's an interesting read and shows the importance of testing and verifying designs prior to deployment.