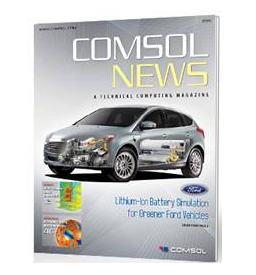 I bet you share that great feeling most COMSOL users get – the excitement when presenting your latest simulation results to your colleagues! Or is it envy? In either case multiphysics modeling work tends to inspire.
Read More
---
I can't say exactly how you ended up on the COMSOL web site. I can however make an educated guess: chances are you stumbled on to an entry in the COMSOL community. Most of our visitors do. Based on our Google stats the Community web section is the most visited section of the site.
Read More
---
Save Lives, Create Jobs, Keep the Earth Green and Win a Grand Prize of $20,000 New York, NY – The eighth "Create the Future" Design Contest (www.createthefuture2010.com) sponsored by PTC, COMSOL and Tech Briefs Media Group opens today and entries will be accepted through June 30, 2010. The contest is an opportunity to receive global recognition and a cash prize of $20,000 for a breakthrough product idea.
Read More
---

BURLINGTON, MA (November 9, 2009) — More than 700 of the world's top practitioners of multiphysics simulation recently gathered for the fifth annual COMSOL Conference in October. Complementary events were held in Boston and then Milan, Italy. The next stop for the annual world tour of this conference focused on multiphysics modeling and simulation for engineering and scientific research is Bangalore, India, November 13-14, 2009, followed by additional conferences in Shanghai, Beijing, Tokyo, and other locations.
Read More
---
Competition sponsored by PTC® (www.ptc.com), COMSOL (www.comsol.com), and Tech Briefs Media (www.techbriefsmedia.com) attracts nearly 1,000 innovative product ideas from engineers and students in 51 countries. New York, NY – A new invention could help millions of manual wheelchair users increase their mobility while decreasing upper body, repetitive stress injuries. Many who suffer from muscle pain, torn rotator cuffs, joint degeneration, and carpal tunnel syndrome due to muscle overuse will benefit from the Rowheel Wheelchair Propulsion System. This innovative design uses […]
Read More
---
Users with floating network licenses can now run high-level simulations on any number of cluster nodes without additional fees. PORTLAND, OR (November 16, 2009) — Today at the SC09, the premier international conference on High Performance Computing (HPC), COMSOL Inc., the leader in multiphysics simulation software, announced that with the upcoming release of COMSOL Multiphysics version 4.0 for Windows® HPC Server 2008 (HPCS) current users of a COMSOL Multiphysics® floating network license will have free and unlimited access to cluster […]
Read More
---