CAD and Multiphysics Interfacing Solutions
You may have seen our Specification Chart already, but did you also know we have one specifically for CAD? With our CAD Specification Chart, you can match your CAD needs with COMSOL offerings.
A Spec Chart for CAD and Multiphysics Interfacing
Many of you work in areas that require using both CAD and multiphysics simulation tools. By integrating CAD tools with COMSOL your design team will be able to collaborate easier. CAD files can be imported into the COMSOL environment and the design can be brought to life (well, virtually anyway). There are a few things to consider when determining which interfacing tools and modules are ideal for your particular CAD situation. In order to make it easier for you to find what you are looking for, we have created a CAD Specification Chart. This is kept separate from the main spec chart to keep things simple. Just like the other chart, this one is set up like a pivot-table with an option to browse by feature and by product.
You can broaden your view by displaying "All Features", or target a specific feature. Features are divided into the following: CAD file formats, geometry modeling, geometry modeling kernel, LiveLink™ for CAD, and mesh file formats. At the top of the chart you will find segments for COMSOL Multiphysics and each add-on Module and LiveLink™ as relevant to CAD. Selecting one of these will highlight that particular column. Purple check-marks indicate what features are available for which products.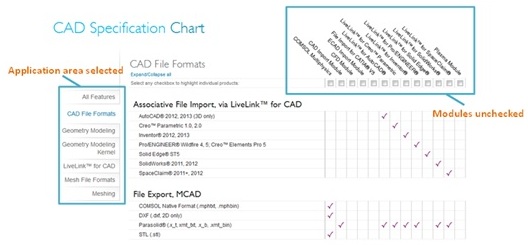 The spec chart is updated on par with any future product and feature updates. Check out the CAD Specification Chart to see what combination of tools you need to be on your way.
---