COMSOL Multiphysics® Version 5.6 Is Now Available
The latest release of the COMSOL Multiphysics® software, version 5.6, is available today! The new version includes faster and more memory-lean solvers for use in multicore and cluster computations, as well as more efficient CAD assembly handling. You'll also find a selection of layout templates for building simulation apps and new graphics features, such as clip planes, realistic material rendering, and partial transparency. Additionally, there are four new products in the COMSOL product suite. Get a quick overview of the new release here.
Faster Solvers, Stunning Graphics, and Enhanced Modeling Functionality
One of the main updates the COMSOL Multiphysics® software brings in version 5.6 is faster solution times: for many types of simulations, they have decreased by 30% or more. There is also improved performance for running simulations on clusters and a new IPOPT optimization solver.
For visualizing your modeling results, there is now more realistic material rendering for plastics, metals, and organic materials. Plus, you can enable partial transparency in visualizations to reveal what's inside your model. Functionality such as clip planes, boxes, spheres, and cylinders facilitate making selections inside of complex CAD models.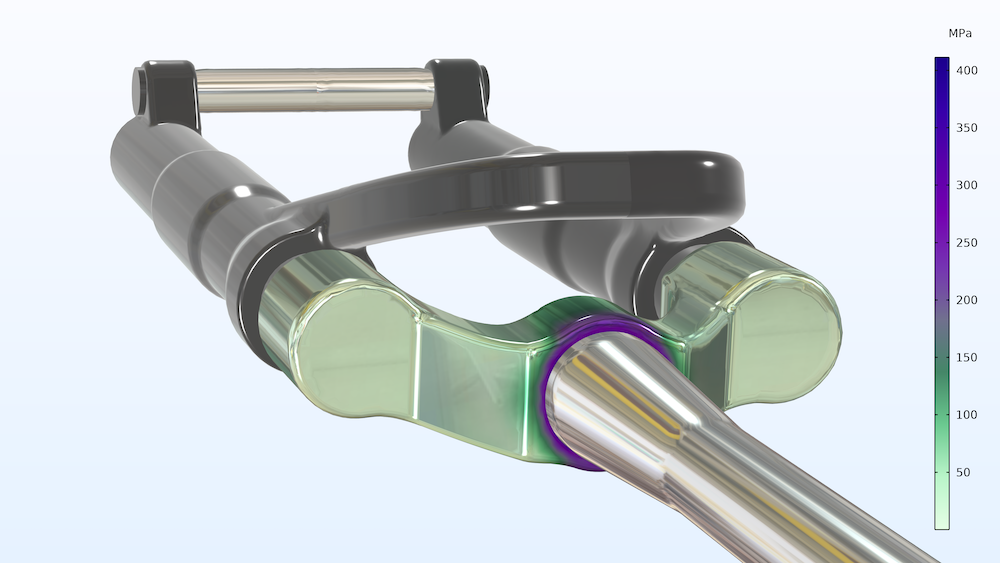 Improved material visualization for a chrome mountain bike fork.
The Application Builder now offers templates to more easily create standardized app layouts for desktops, tablets, and smartphones, as well as a new type of form object: control knobs.
4 New Products for Expanded Modeling Capabilities
The release of COMSOL Multiphysics version 5.6 brings four new products: the Fuel Cell & Electrolyzer Module, Polymer Flow Module, Liquid & Gas Properties Module, and LiveLink™ for Simulink® interfacing product.
Fuel Cell & Electrolyzer Module
Electrolyzers, which frequently rely on water electrolysis to produce hydrogen from electricity, are slated to become a major part of the power & energy industry in the coming years. The Fuel Cell & Electrolyzer Module provides chemical engineers and scientists with specialized modeling and simulation tools for designing and analyzing electrochemical cells, including systems such as:
Hydrogen fuel cells

Proton exchange membrane fuel cells (PEMFCs)
Hydroxide exchange (alkaline) fuel cells (AFCs)
Molten carbonate fuel cells (MCFCs)
Solid oxide fuel cells (SOFCs)

Water electrolyzers
Industrial electrolyzers
Gas diffusion electrodes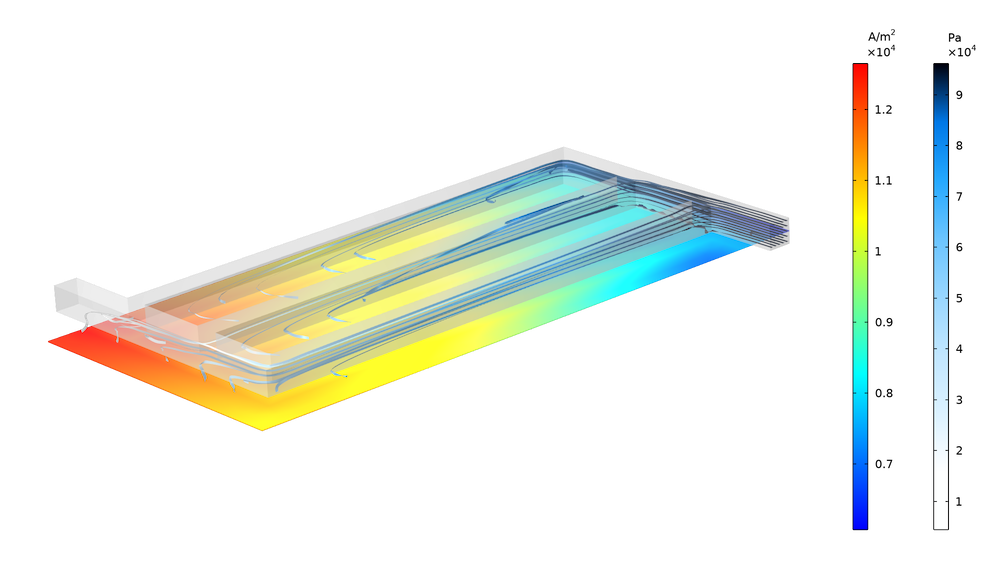 A model of a solid oxide electrolyzer cell.
The Batteries & Fuel Cells Module from previous versions is now called the Battery Design Module.
Polymer Flow Module
You can use the Polymer Flow Module to simulate processes involving non-Newtonian fluids including multiphysics effects. The module includes viscoelastic and inelastic non-Newtonian material models that you can use to easily describe fluids found in a variety of processes in industries such as:
Polymer
Food
Pharmaceutical
Cosmetics
Household
Fine chemicals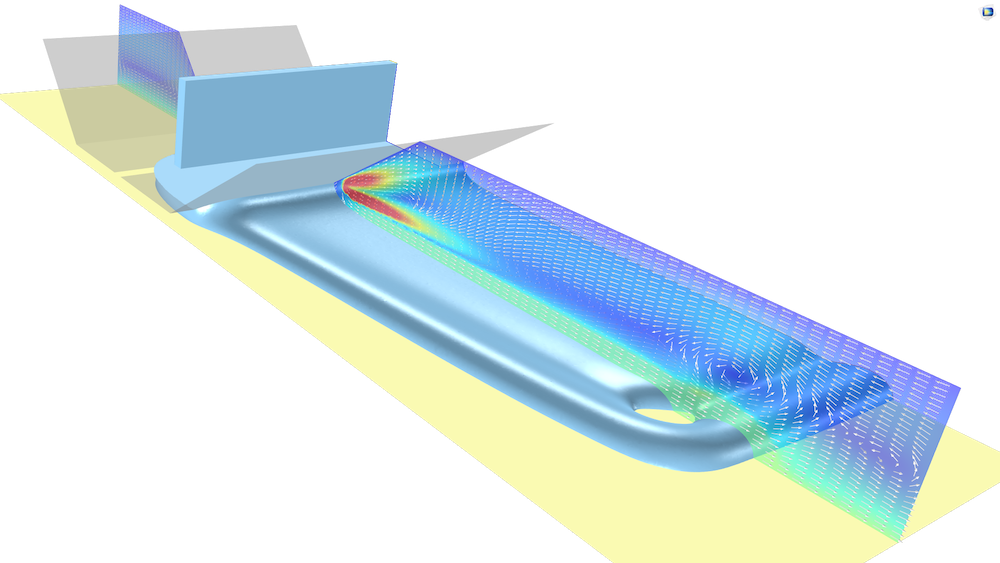 A slot die model being coated with a shear-thinning fluid.
LiveLink™ for Simulink®
The LiveLink™ for Simulink® interfacing product can be used by control systems engineers to perform cosimulations between COMSOL Multiphysics® and Simulink® — for both static and time-dependent models.
Liquid & Gas Properties Module
You can use the Liquid & Gas Properties Module to compute thermodynamic properties for gases, liquids, and mixtures, including:
Density
Viscosity
Thermal conductivity
Heat capacity
Ratio of specific heat
Speed of sound
And more
This module is useful for a variety of CFD, heat transfer, and acoustics simulations.
Many Physics-Specific Updates
Flip through this slideshow for a peek at some of the physics-specific features and functionality included with COMSOL Multiphysics version 5.6.
Compute parasitic inductance in an inductively coupled array of PCB coils. Then extract the L-matrix to construct a lumped circuit representation of the PCB.

Couple RF, thermal, and stress analyses to design for 5G applications, like this cascaded cavity filter.

Perform faster and more accurate ray tracing for optical analyses.

Accurately model transient and dynamic contact problems, like a club hitting a golf ball.

Model active magnetic bearings for rotordynamics applications.

Model nonlinear acoustics for high-intensity ultrasound, like this high-intensity focused ultrasound (HIFU) propagation through a tissue phantom.

Compute sound distortion in loudspeakers for mobile devices caused by nonlinear thermoviscous effects.

Use a new boundary element method (BEM) formulation for large scattering models, including sonar applications.

Simulate compressible dispersed multiphase flows found in many natural phenomena, manufacturing processes, and separation processes.

Easily solve shallow water equations problems with a new built-in physics interface.

Model the evaporation of water droplets as they are carried away in the surrounding air for particle tracing applications.

Define the interface between two domains corresponding to two different phases for phase change simulations.
Learn More About COMSOL Multiphysics® Version 5.6
See all of the updates COMSOL Multiphysics® version 5.6 brings and download the latest version:

Simulink is a registered trademark of The MathWorks, Inc.