Congratulations to the COMSOL Conference Boston 2012 Paper and Poster Winners
As the conference opened in Milan today, we would like to take a moment and congratulate the COMSOL Conference Boston 2012 paper and poster winners. Three "Best Paper", two "Best Poster", and one "Popular Choice" awards were handed out.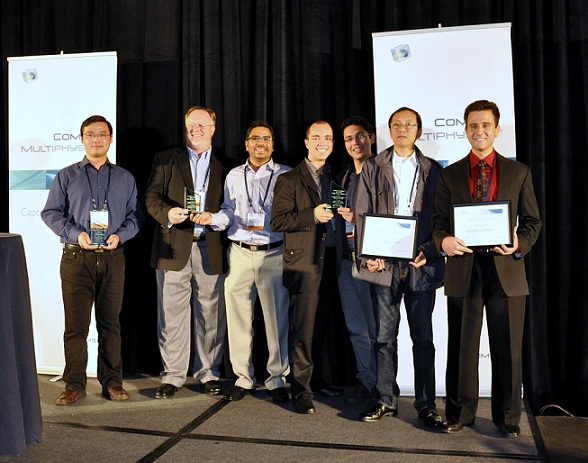 From left: Yang Lu, James D. Freels, Prashant K. Jain, Diego Alejandro Sanz Becerra, Edgar Alberto Unigarro Calpa, Lizhu Tong, and Matheus Fernandes. Not shown here: Mranal Jain.
Best Paper Winners
The three "Best Paper" awards were voted forth by our Program Committee. James D. Freels and his group from Oak Ridge National Laboratory (ORNL) won one of the awards in this category for their paper on "Design and Nuclear-Safety Related Simulations of Bare-Pellet Test Irradiations for the Production of Pu-238 in the High Flux Isotope Reactor Using COMSOL". (Read more about this in our July blog post Space Fuel: Oak Ridge National Laboratory to Produce Plutonium-238)
Yang Lu and his group from National Institute of Standards and Technology (NIST) also received this award for their paper titled "Modeling of Chloride Transport in Cracked Concrete: a 3D Image-Based Microstructure Simulation".
The third "Best Paper" was titled "Simulation and Fabrication of Wireless Passive MEMS Pressure Sensor", written by Edgar Alberto Unigarro Calpa and his group from Universidad de los Andes and Instituto Barraquer de América, Colombia.
Best Poster Winners
Two posters were deemed "Best Posters" by our poster judges, and one poster was awarded "Popular Choice" based on conference attendee votes. The judges picked a poster on "Geometric Optimization of Micromixers" by Mranal Jain and his group from Cain Department of Chemical Engineering, Louisiana State University. They also chose the poster on "Tertiary Current Distributions on the Wafer in a Plating Cell" by Lizhu Tong from Keisoku Engineering System Co., Tokyo, Japan.

COMSOL CEO Svante Littmarck hands over "Best Poster" award to Mranal Jain.
The "Popular Choice" award went to Matheus Fernandes from Case Western Reserve University for the poster titled "Wind Flow Modeling of Area Surrounding the Case Western Reserve University Wind Turbine".
Congratulations to all of you!