Keynote Video: Using COMSOL Server™ for Product Development
In a lineup of online shopping results, jackets labeled as being made with GORE-TEX® product technology signal "high quality" to the consumer. The company behind this technology, W. L. Gore & Associates, Inc., specializes in materials science for fabrics, medical products, and performance solutions. The companies that produce the end products rely on material that performs as expected. To accelerate their product development efforts, W. L. Gore & Associates, Inc. uses simulation, apps, and the COMSOL Server™ product.
Vasu Venkateshwaran Talks About Accelerating Product Development with COMSOL Server™
In the Business of Selling Materials to Other Companies
W. L. Gore & Associates, Inc. was established in a basement in 1958. Since then, the organization has grown to an international scale with manufacturing and sales offices in countries around the globe. Throughout the three divisions (fabrics, medical products, and performance solutions), everything they produce has to meet the company's high quality standard and, as Vasu Venkateshwaran said during his keynote talk at the COMSOL Conference 2017 Boston, the products have to "do what we say they will do — every time."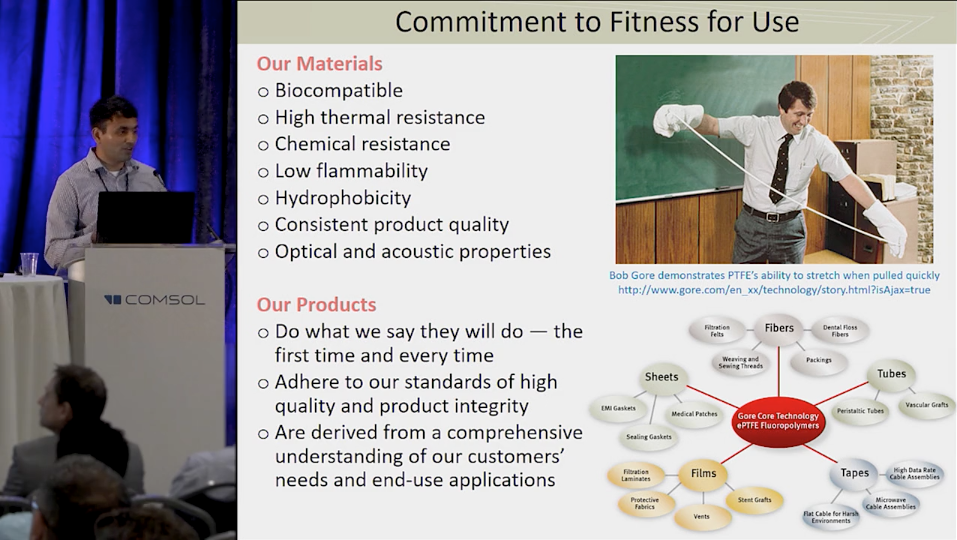 The foundation for producing materials that perform to spec is a deep understanding of the customer's needs and end-use applications. This is where modeling and simulation come into play.
Modeling and Simulation at W. L. Gore & Associates, Inc.
Each division of the organization includes a few people who use modeling and simulation to understand the details and processes behind the technology and to optimize designs. Simulation tools lead to accelerated development because they can both reduce the need for experiments and be used to support experiments for better designs. As a global company, W. L. Gore employs researchers located in the U.S., Germany, and Japan. It's important that the company coordinates these resources and analytics efficiently, and simulation can help meet that goal.
The work of a new project begins when someone reaches out to the modeling team and says something along the lines of: "I have this material. I want to make a product that will meet this particular customer need. Can you tell me what I can do with it? What's the best operating point? How can I make this more efficient? What are the deathblows?" The modeling team's combined expertise includes porous media, optimization, structural mechanics, acoustics, numerical solutions of differential equations, reaction engineering, and fluid flow. They use the COMSOL Multiphysics® simulation software for many of these areas. The simulation expert works with the provided specs to build a model for figuring out the different operating conditions. Next, (s)he wants to give the simulation to the team that initiated the project so they can run it and learn from it. Therein lies a big challenge.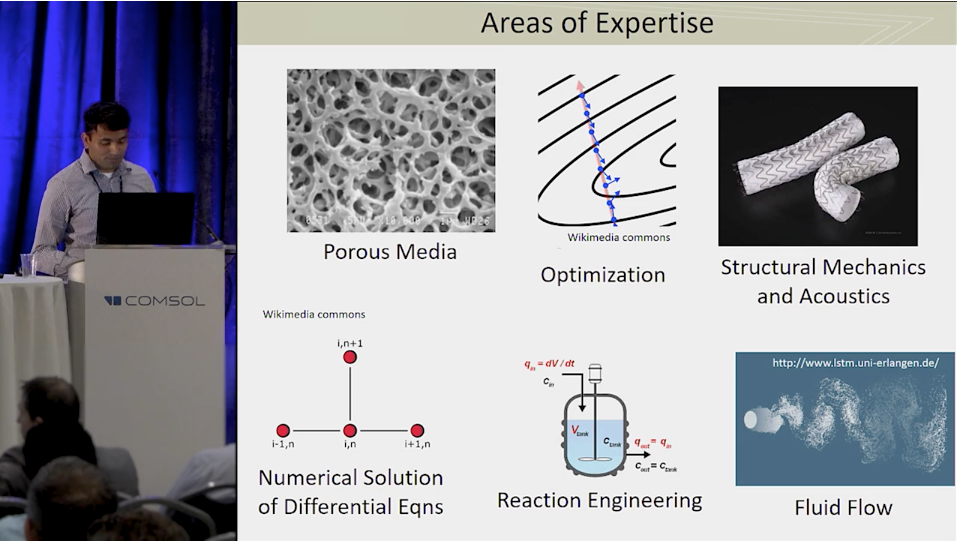 "Our team has some expertise in using the software, but then the engineers we communicate with don't always necessarily have that background, so we have to make a dissemination of this information that is very easy for them [to understand]," Venkateshwaran explained in his keynote presentation.
Communicating Simulation Information to a Diverse Audience
According to Venkateshwaran, the company used to put a lot of effort into writing custom code and making executables so that engineers didn't have to install software and were able to use it on their own computer with just a few clicks. This, of course, had limitations. The simulation team would build a model and pass it to someone else, but then they would have no control over or knowledge of who else ended up using the model. This meant that people could be basing critical decisions on a model that was not built for that particular use case. That was very risky for a company known for developing reliable and high-quality products.
Monitoring and Controlling Use: A Big Concern
Thanks to the built-in Application Builder in COMSOL Multiphysics, the simulation engineers can instead produce easy-to-use apps for specific use cases. Venkateshwaran grouped their apps into three different types:
Calculators (most frequently used)
Design-manipulation tools, where certain factors change based on customer needs
Parametric studies for distributing computational load
Venkateshwaran pointed out that the Application Builder allows the simulation experts to include documentation in their apps. This is an important feature to W. L. Gore & Associates, Inc. because the app users can know what the app is designed for; how to use it; what information they might need to obtain in advance experimentally (e.g., to find certain properties); as well as how to run any necessary experiments. Another plus is that it's easy to extend the apps with Java® code to give them more advanced functionality.
All of these apps are then organized, deployed, and monitored via COMSOL Server™, which the company is in the process of moving to a cloud service. To further alleviate the concern regarding incorrect use, W. L. Gore & Associates, Inc. takes advantage of the ability to set up user groups within COMSOL Server™. Then, they turn to the user logs to facilitate maintaining and monitoring the app use. If an app is only suited for a specific user or scenario, they can restrict it from being misused.
Standardizing Processes and Integrating the Tools on a Global Scale
Since COMSOL Server™ is synched with their network and Windows® Active Directory® directory service, all engineers in the company have access to the apps — no matter where in the world they are located. What's more, there is no local installation required; you just open up a browser and connect, and you're ready to use the app. This promotes standardized processes worldwide, as the same tools are used consistently throughout the organization. It is also easy to create new custom apps upon request and keep the different versions organized in the COMSOL Server™ library.
All of this makes for efficient distribution of simulation tools and accelerates product development at W. L. Gore & Associates, Inc.
Don't take my word for it; watch the keynote video above to hear directly from Vasu Venkateshwaran.
GORE-TEX is a registered trademark of W. L. Gore & Associates.
Oracle and Java are registered trademarks of Oracle and/or its affiliates.
Microsoft, Active Directory, and Windows are either registered trademarks or trademarks of Microsoft Corporation in the United States and/or other countries.