Modeling Lithium-Ion Batteries for Quality and Safety Assurance
When it comes to lithium-ion batteries, quality and safety are top priorities. Assessor of 20,000 batteries per year, Intertek Semko AB understands this perhaps better than anyone else.
Intertek Semko Understands Batteries and Fuel Cells
Intertek Semko AB, located in Sweden, is one of many Intertek branches around the world. The company's main focus is on safety and quality assurance. They test, inspect, and certify products as well as assist their customers in optimizing product designs and manufacturing processes to meet certain criteria.
One area of expertise is batteries and fuel cells; Intertek has over 50 years worth of experience evaluating this type of technology. The lithium-ion battery is one, but they don't stop there. They also work with lead-acid, NiCd, and NiMH batteries to name a few. In fact, they evaluate 20,000 batteries of all types of chemistries and sizes annually.
Along with actual batteries, Intertek works a great deal with simulations to support their clients' safety, reliability, and performance needs. In addition to batteries, they model fuel cells and electrolytic and corrosion processes. (You can see a more complete list of their modeling expertise on the Intertek Semko AB COMSOL Certified Consultant page.)
Important Design Considerations for Li-Ion Batteries
In a white paper on modeling the lithium-ion battery, Andreas Nyman from Intertek and Henrik Ekström of COMSOL briefly explain how the Li-ion battery works. "The term lithium-ion battery," they write, "refers to an entire family of battery chemistries."
General Concept
Inside this type of battery, there is a nonaqueous electrolyte, meaning it does not contain water. The battery gets its name from the lithium ions that move between two electrodes (one is negative and the other is positive) during charge and discharge when a current flows through the cell. This process enables the absorption and release of electric energy. How much voltage we can retrieve from an Li-ion battery depends on the lithium's different chemical energy at each of the two electrodes.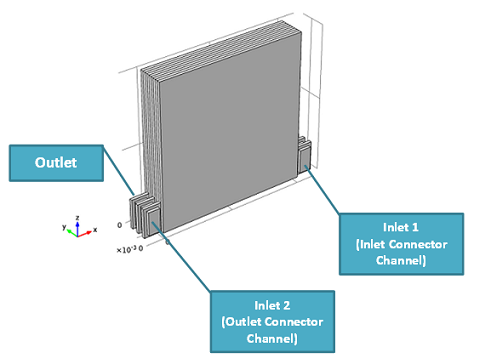 Lithium-ion battery pack geometry, as shown in my previous blog post: Lithium-Ion Battery Model.
Modeling Aids Battery and Device Manufacturers
Combining simulations with experimental data, the authors dive into various battery design scenarios and point out the important aspects that battery and device manufacturers need to consider.
A battery manufacturer, for instance, should use modeling to optimize the design of the actual battery. By creating a detailed model of the pertaining processes, they can test different hypotheses for understanding limitations and improving battery cell and module designs.
Some of the various parameters the battery manufacturer may study include the performance implications of:
Different geometries
Electrolyte composition
Electrode materials
Pore distribution
Device manufacturers, on the other hand, would benefit from modeling the entire battery system to see how they will perform once incorporated into other products. Not all devices present the same operating conditions, so by using validated models, application experts can determine which system is appropriate for their particular device. Nyman and Ekström even suggest that simulations are crucial for selecting the right batteries and designing automatic control of a device's battery system.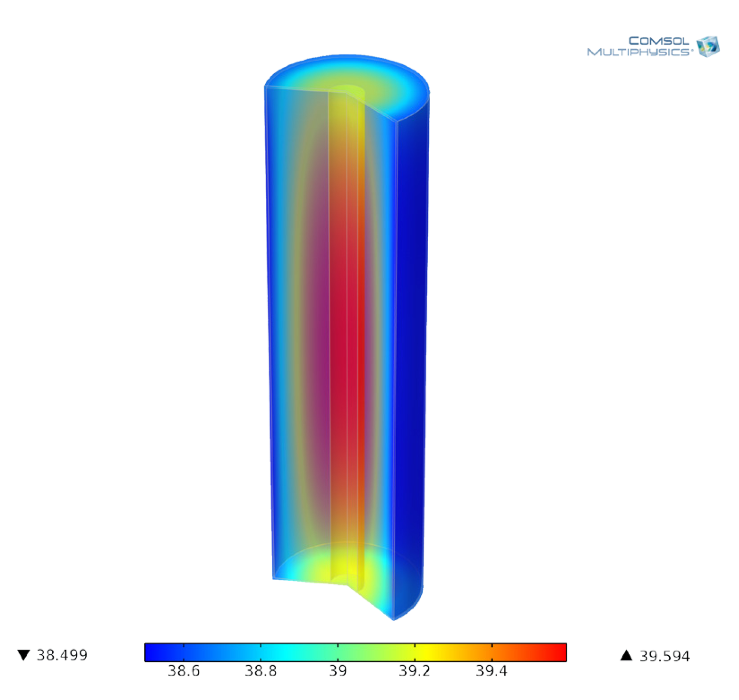 Example model: Temperature distribution in a battery during discharge. Image taken from the white paper.
Industry Experts Provide a Firsthand Account of Modeling Lithium-Ion Batteries
The white paper offers you a firsthand account from batteries and fuel cells and simulation experts. It's an excellent resource for battery and device manufacturers who want to learn more about the advantages of modeling battery system design, selection, and operation. By way of model examples, you will also gain insight into the involved processes as they occur in the electrodes, electrolyte, module, and battery pack.
Read the White Paper