Photos from the COMSOL Conference 2018 Boston
Another year, another great COMSOL Conference Boston. Thank you to everyone who attended and contributed to the success of our annual event. Over three days last week, we were able to connect with and learn from one another…and have some fun, too!
Starting Off the Conference with a Big Announcement
We kicked off the COMSOL Conference 2018 Boston with an exciting announcement: the release of version 5.4 of the COMSOL® software. COMSOL president and CEO, Svante Littmarck, unveiled an exciting new product, COMSOL Compiler™, which enables users to create and deploy standalone simulation applications and digital twins. We also announced the new Composite Materials Module, as well as a wide range of new and updated features within the add-on products for the COMSOL Multiphysics® software.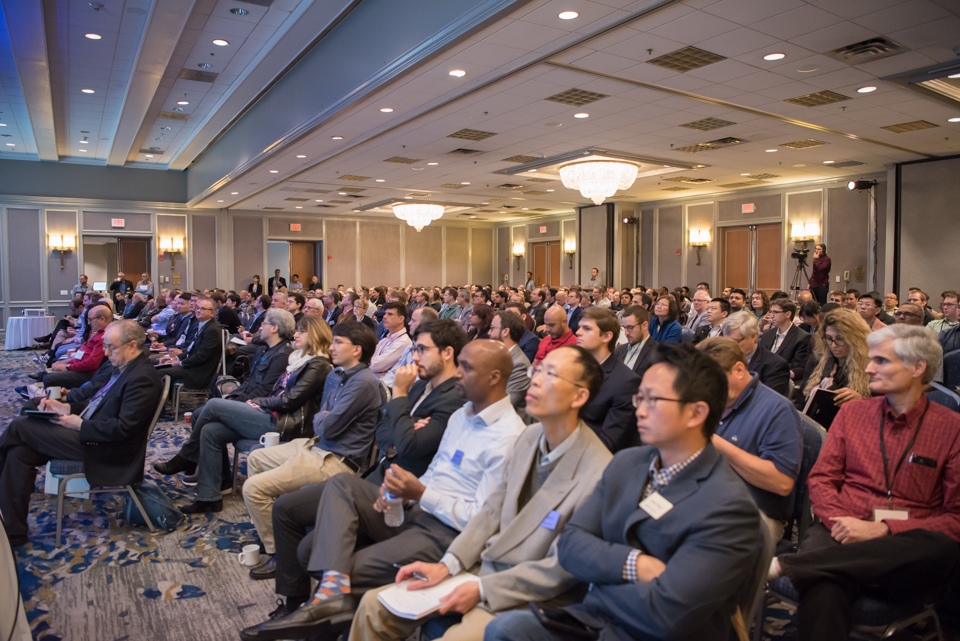 Engineers, researchers, and scientists from around the world gathered to connect and learn at the conference.
Highlights from This Year's COMSOL Conference
The COMSOL Conference 2018 Boston schedule was packed with technical content, including more than 40 minicourses and workshops. Attendees were also able to connect with COMSOL's technical product managers across all physics applications and participate in engaging panel discussions on additive manufacturing; batteries and fuel cells; and acoustics simulation, featuring panelists from GE Global Research, Samsung Research America, Nissan, General Motors Global Propulsion Systems, and Shure, Inc.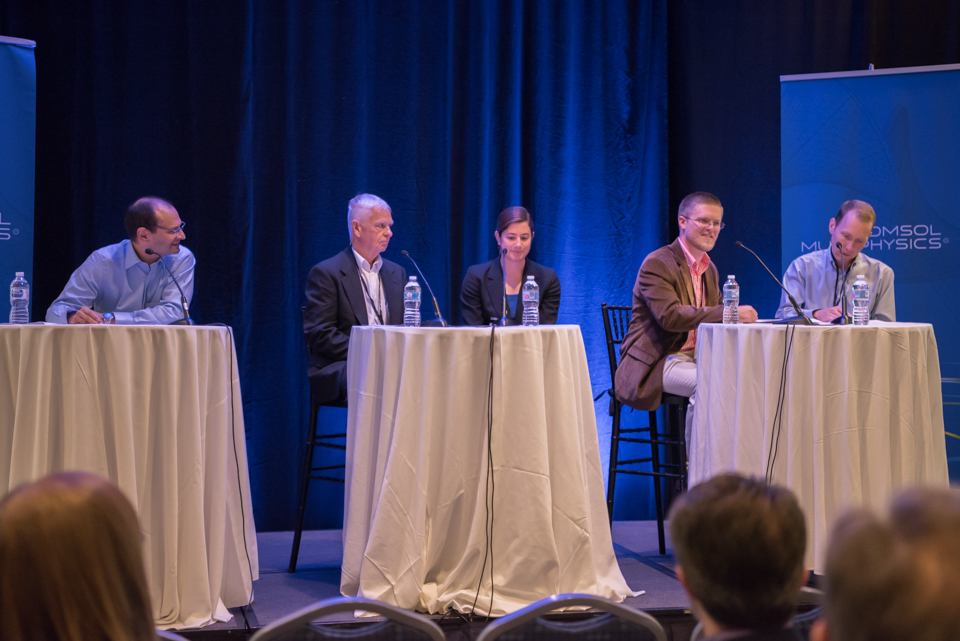 At the COMSOL Conference 2018 Boston, attendees discussed how they are using simulation and validation within their own projects and different industries.
This year, the oral and poster presentations included a diverse group of engineers, researchers, and scientists. Presentations ranged from industry professionals with more than 30 years of simulation experience to undergraduate students presenting their first experiences with the COMSOL software, and topics spread across many applications, including biomedicine, fluid flow, heat transfer, plasma, and so much more. The top paper and poster presentations were given Best Paper and Best Poster awards.
The keynote talks were especially engaging. Freddy Hansen from Abbott Laboratories had the audience glued to the stage as he discussed how Abbott is designing a better pump for heart failure patients to truly change the quality of lives. Justin McKennon from NTS Lightning Technologies showcased how important it is to implant a suitable lightning protection design for airplanes and wind turbines. Ivana Milanovic from the University of Hartford discussed a simulation-based approach to STEM challenges. With her quick antics and an engaging presentation, she left the audience wishing she was our professor in school! Eric Gebhard from Signal Microwave discussed using COMSOL Multiphysics as the core technology for developing RF/microwave and high-speed digital connectors for 5G. Lastly, Nicholas Goldring from Radiasoft presented his work using COMSOL Server™ to simulate next-generation synchrotron light sources.
The conference also included a variety of fun social events, such as cocktail receptions; an excursion into Boston for a tour of the historic Freedom Trail; our annual gala dinner; and luncheons over looking the Charles River featuring traditional New England lobster rolls and clam chowder.
COMSOL Conference 2018 Boston Photo Album
Each October, we come together in Boston to see many new and familiar faces. While I might be able to tell you all of the great memories and experiences we had over the three-day event, the best thing that I can share with those who couldn't join us this year is photos from the conference. For those who did attend, we hope you enjoy!
Svante Littmarck, Ed Fontes, and Dan Smith (from left to right) discuss news in COMSOL Multiphysics version 5.4

Freddy Hansen from Abbott Laboratories gives a keynote talk on a novel heart pump design

The Exhibition Hall is central to many lively discussions among conference attendees

Ivana Milanovic shares the benefits of using simulation apps for STEM education in her keynote talk

At the Batteries and Fuel Cells panel discussion, panelists discuss simulation and current trends

Attendees spend much of the conference browsing and discussing other users' poster presentations

Justin McKennon from NTS Lightning Technologies presents on the importance of lightning protection systems for aircraft

Users get detailed information on solvers in a specialized minicourse from Jacob Yström, a COMSOL engineer

Nagi Elabbasi of Veryst Engineering leads an exciting panel discussion on acoustics simulation

Panelists moderated by Jeff Crompton from AltaSim Technologies discuss the role of simulation in additive manufacturing

Conference attendees gather for a presentation
Thank You!
A special thank you to everyone who contributed to the success of the COMSOL Conference 2018 Boston, especially our Gold sponsors: AltaSim Technologies, Rescale, Synopsys, and Veryst Engineering.
Save the date for the COMSOL Conference 2019 Boston, which will be held on October 2–4. See you then!