Photos from the COMSOL Conference 2019 Beijing
The COMSOL Conference 2019 Beijing was held earlier this month, with the theme of "learning, exploring, and innovating". The conference provided a platform for COMSOL users to connect with and learn from each other, and consisted of keynote speeches, user presentations, and minicourses. We are excited to share highlights and photos with you from the conference.
Highlights from This Year's Conference in Beijing
Nearly 500 people attended the COMSOL Conference 2019 Beijing, including experts, scholars, engineers, and enterprise R&D personnel committed to simulation research. At the opening ceremony, Bjorn Sjodin, vice president of product management at COMSOL, gave an overview of the latest release of COMSOL Multiphysics®, version 5.5, which piqued the attendees' interest.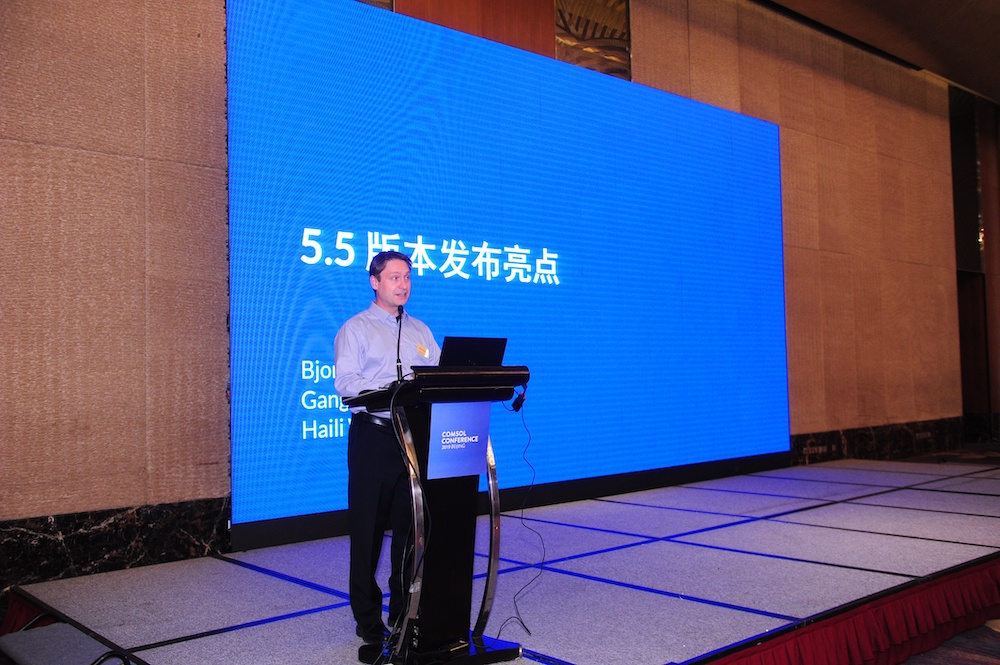 Bjorn Sjodin discussed some highlights of COMSOL Multiphysics® version 5.5.
25 minicourses and 9 user presentations provided attendees with information about solvers, batteries and electrochemistry, acoustics, COMSOL Multiphysics modeling techniques, and more. In between sessions, attendees were able to discuss their ideas and questions with COMSOL engineers.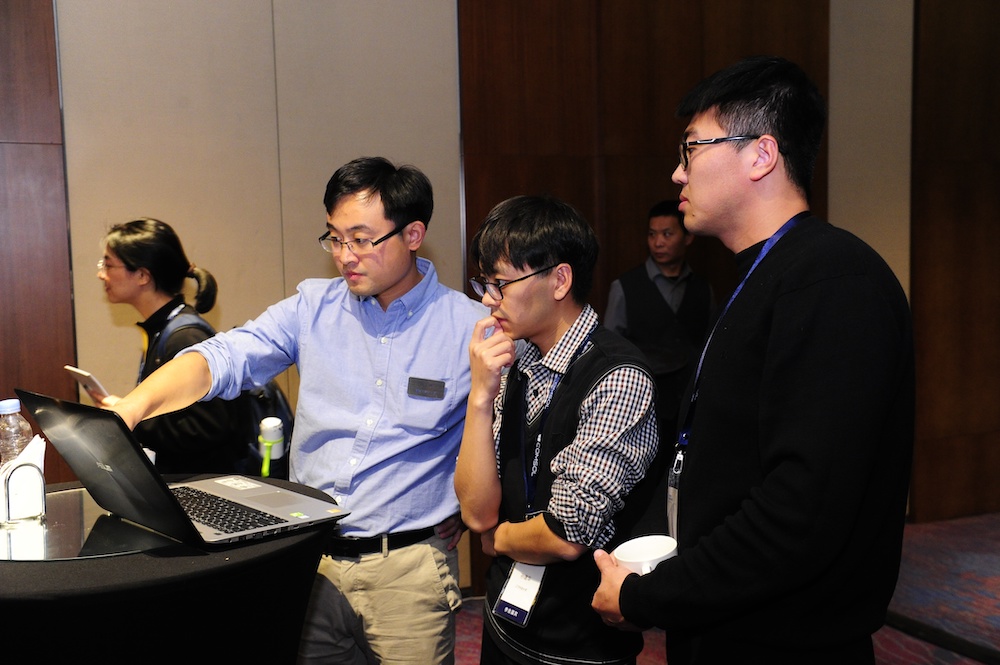 Conference attendees discuss their modeling problems with a COMSOL application engineer.
Attendees were very excited for the keynote presentations. Dr. Huaixin Guo, senior engineer at Nanjing Electronic Devices Institute, shared his work on the thermal management of power devices. Mr. Xiaojian Ding, simulation engineer at Amperex Technology Limited (ATL), gave a presentation on modeling lithium-ion batteries. Lastly, Mr. Chunhong Yang, director at HARMAN International (Suzhou), presented on the use of simulation to design car audio systems.
COMSOL users also shared how they are using simulation through posters and oral presentations covering cutting-edge applications in the fields of electromagnetics, mechanics, acoustics, fluid, heat transfer, and batteries.
Photo Slideshow from the COMSOL Conference 2019 Beijing
Mr. Chunhong Yang, director of HARMAN International (Suzhou), giving a keynote presentation.

Dr. Gang Wang, technical director of COMSOL China, discusses modeling with attendees.

The most popular minicourse topic was the series on solvers.

Attendees discuss poster exhibitions.

Bjorn Sjodin presents the Best Poster awards to the winners.
See You Next Year!
Thank you to all who attended the COMSOL Conference this year! We hope you enjoyed the event as much as we did.
We look forward to seeing you next year for the COMSOL Conference 2020 Shanghai…