Photos from the COMSOL Conference 2019 Cambridge
For the first time since 2014, the COMSOL Conference returned once again to Cambridge, UK. Over three days, COMSOL staff and users from across the world gathered to celebrate all things multiphysics. With so much learning and discussion going on, it would be hard to catch everything. If you missed out or you'd like to relive the conference, read the summary below.

Highlights from This Year's Conference in Cambridge
Throughout the conference, we offered opportunities for attendees to build their simulation skills. The conference was host to workshops and over 30 minicourses on topics ranging from solvers and meshing to specific applications. Attendees also got their own spotlight. Oral presentations and a poster session gave users of the COMSOL Multiphysics® software a platform to showcase their own projects.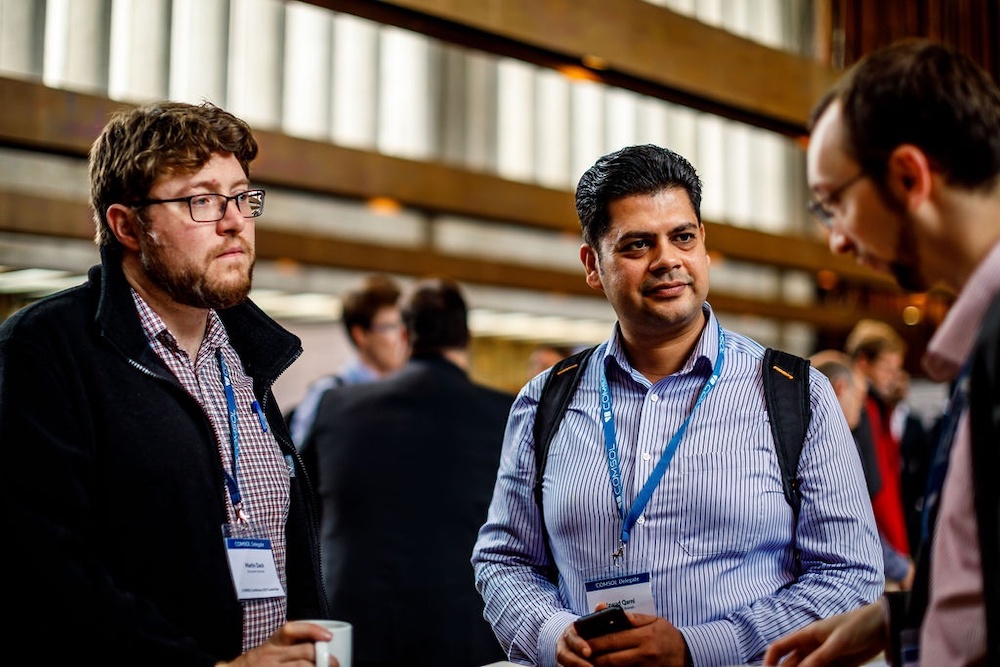 Attendees at the COMSOL Conference 2019 Cambridge. Photo by Lina + Tom.
Keynote presentations from industry are always well received, and the Cambridge conference was no exception. Attendees enjoyed hearing speakers from National Physical Laboratory (NPL), Rolls Royce, Arup, and SGL Carbon provide valuable insight into their own use of simulation. On top of that, panel discussions held conversations on simulation's role in topics such as powertrain electrification and additive manufacturing. Combine all of this with an exciting awards dinner as well as a social event in the stunning St. John's College — and COMSOL Conference 2019 Cambridge was surely an event to remember.
Photos from the COMSOL Conference 2019 Cambridge
Churchill College served as the venue for the COMSOL Conference 2019 Cambridge.

A panel discussion on the role of simulation in digital twins and industry 4.0.

Mads H. Jensen of COMSOL leads a minicourse on acoustics modeling.

Hundreds of conference attendees submitted papers and posters to present at the 3-day event.

The barbecue dinner in the college courtyard.
Photos by Lina & Tom.
We'd like to thank everyone who attended the COMSOL Conference 2019 Cambridge. We hope you enjoyed the event, and we look forward to seeing you again in the future!