Watch COMSOL Multiphysics Videos Online
Our Video Gallery is home to nearly 150 videos that teach, inform, and maybe even entertain you, by highlighting various elements of COMSOL Multiphysics in tutorials and product introductions. With a recent redesign, we have made it easier for you to find videos relevant to you.
Seeing COMSOL Multiphysics in Action
For anyone looking to explore the capabilities of the COMSOL Multiphysics simulation software, videos are a valuable resource. If you're a visual learner, you'll find our tutorials and model demonstrations particularly helpful. If you are looking for more of an introduction to what you can model, we've got you covered with product overviews, archived webinars, and user perspectives.
The Video Gallery has something for everyone and we want to make sure each of you has a good browsing and viewing experience. That's why we have redesigned the gallery to incorporate improved navigation and organization of video content.
An Enhanced Layout and Navigation
Helping you find the right videos was our main goal with this redesign, which led to the addition of a filter navigation. The new navigation not only has filtering by Discipline (available in the previous version), but also enables you to filter by video Type, Core Functionality, and Product. You can also run a free-text search through the entire Video Gallery to find related videos by keywords.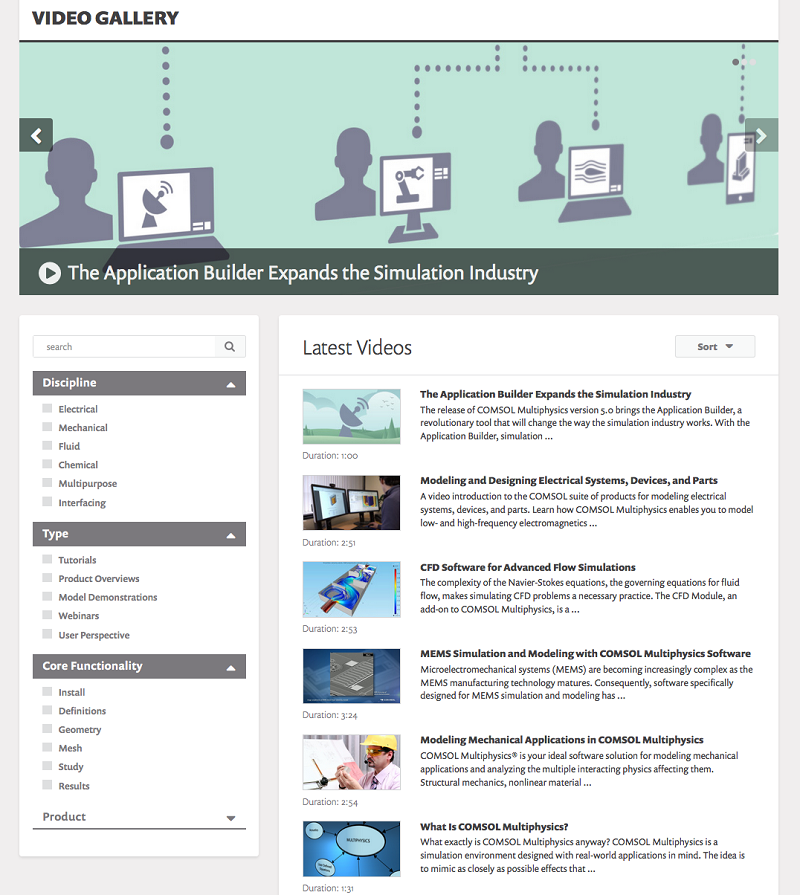 A screenshot of the revamped Video Gallery.
Once you have made your selections, these videos can be sorted by most recent publish date or by the length of the video. After clicking on a certain video, you will be directed to that individual video page. Here, you can watch the video as well as read a brief content summary and view other related videos.
Types of Videos Available in the Video Gallery
Here's a quick guide to the different types of videos you'll find in the Video Gallery…
COMSOL Multiphysics Tutorials
First, there are the Tutorial videos, which come in a couple of different forms. These videos will all have step-by-step instructions that you can follow along with and reproduce, but the videos differ in the content being shown. Model Tutorials teach you how to model specific applications. Find one in your particular discipline and follow along to learn the standard modeling steps for that type of model. The model workflow in COMSOL Multiphysics is the same for all disciplines and applications but with slight variations.
The second type of tutorial videos are Core Functionality videos. These are particularly helpful if you are new to the COMSOL Multiphysics software, though even experienced users can learn from them. Core Functionality tutorials are tips and tricks videos, short and to the point, divulging a nugget or two of modeling knowledge within each video. For example, you will find basic videos showing you how to create a new material in COMSOL Multiphysics as well as more supplemental modeling techniques on how to generate model reports. Since these videos generally apply to all disciplines, they will show up for all disciplines.
Overviews and Expert Insight
For those interested in learning more about the products themselves, the Product Overviews video type is a great reference point. Here, you can choose from a variety of videos discussing the capabilities of different products. With the release of the Application Builder in COMSOL Multiphysics version 5.0, we created a video that introduces this tool and its profound impact on expanding the user base of simulation software. You can view that video here.
Within the Video Gallery, you will also find the Webinars and User Perspective types. The archived webinars introduce you to our experts, as they discuss modeling in their area of expertise. The User Perspective category offers an inside look into how other simulation engineers are using the COMSOL Multiphysics software.
COMSOL on YouTube
In addition to publishing videos in our Video Gallery, we also share many of our videos to the COMSOL YouTube channel. Here, you will find multiple tutorial series videos as well as several model demonstrations. If you like what you see, feel free to share our YouTube videos with your social networks!
Browse the Video Gallery Now