Your Introduction to the COMSOL Server™ License
Want to share your simulations with the world or simply your own team? After you build an application with the Application Builder in the COMSOL Multiphysics® software, you can share your app using a COMSOL Server™ license with anyone from colleagues to customers. Here is your introduction to COMSOL Server™ — what it is, why to use it, and a brief overview of how to get started.
What Is COMSOL Server™?
COMSOL Server™ is a powerful tool that enables you to share simulations.
It all starts with COMSOL Multiphysics simulation software. As a simulation expert, you can create the simulations you need with COMSOL Multiphysics and transform these into apps with the Application Builder. You can include only information relevant to the user and exclude anything unnecessary. This way, the users of your streamlined application will have an easier interface in which to work.
Before others can take advantage of your application, they will need access to it. This is where COMSOL Server™ comes into play.
The person responsible for distributing the applications will buy a capacity of licenses for each app user. Depending on your situation, these could be customers, engineers, factory workers, or anyone who is not a COMSOL Multiphysics user but could make use of the simulations. For example, if you have four engineers who need to use your app, you would buy four COMSOL Server™ licenses. Now each engineer is able to run your app — and as many as three other apps at the same time.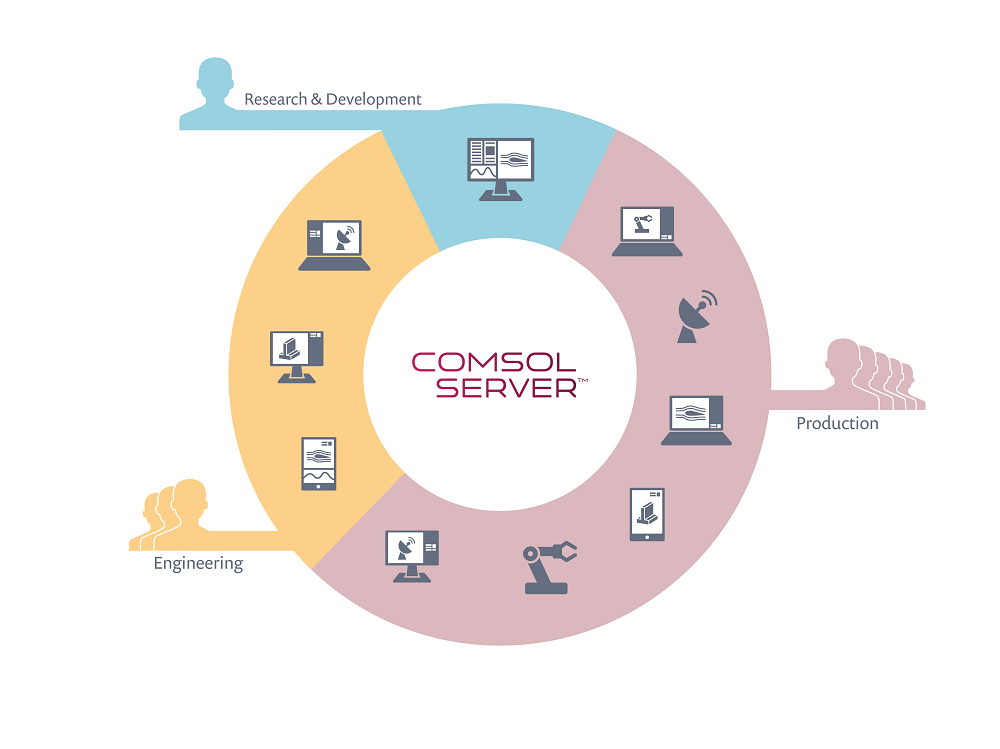 Why Should I Use COMSOL Server™?
The opportunities are limitless with COMSOL Server™. What you make is up to you. No matter what you create, COMSOL Server™ simplifies the distribution process of your simulation apps.
Before COMSOL Server™, only those knowledgeable in COMSOL Multiphysics could run simulations using our software. The task of reworking the simulation when new data was discovered and sharing the new results fell on the simulation engineer. Now you can create an app that allows people without simulation knowledge to do the work themselves.
Let's say you are a simulation expert and work at a company that builds cars. Using your expertise in COMSOL Multiphysics, you create apps based on the models you use most. One day, your company decides to create an innovative electric car. The engineers want to look into different metals and alloys for the frame, but they may not have the simulation expertise to work in COMSOL Multiphysics. Instead, they can simply open up COMSOL Server™ and filter apps to search for what they need. In this case, they would look for an app in the materials category. After choosing the application they want, they can simulate how different materials affect the car frame. If they use this application often, they can favorite the app for even easier access.
With COMSOL Server™, you can share an app that empowers the people using it to get the results themselves. This saves time and allows knowledge and expertise to spread more easily between different team members, departments, and companies.
Brief Introduction to Using COMSOL Server™
COMSOL Server™ is very versatile. It can be used to access simulation apps on your computer as well as on other devices, such as smartphones and tablets. This lets you take your app with you wherever you go. There are two main ways to run applications with COMSOL Server™:
In a web browser
In COMSOL Client
Let's review both options next.
Running COMSOL Server™ in a Web Browser
Running COMSOL Server™ in a web browser has many advantages. You can access it on most of the major web browsers, including Google Chrome™ browser, Firefox® browser, Safari® browser, and Internet Explorer® browser. This means that you can take your app anywhere and use it on different kinds of devices without having to download anything.
There are a few downsides, though. When running COMSOL Server™ on a browser, you won't have access to some features such as LiveLink™ products for CAD software. Additionally, smartphones and tablets may have further limitations. These are all things to consider when choosing the best method for you.
To run an application in a web browser, you click on a link that someone gave you or directly enter the web address of a COMSOL Server™ web interface into the address bar of your browser. The address will typically be the computer name and port number of the web interface. For instance, if the port number was 2036, you would enter your information as follows:
From this screen, you need to log in to access your Application Library page. Upon doing so, you will see a list of the available apps in your library. Simply choose the application you want to run and click on the Launch button to open it in a new tab, as seen below.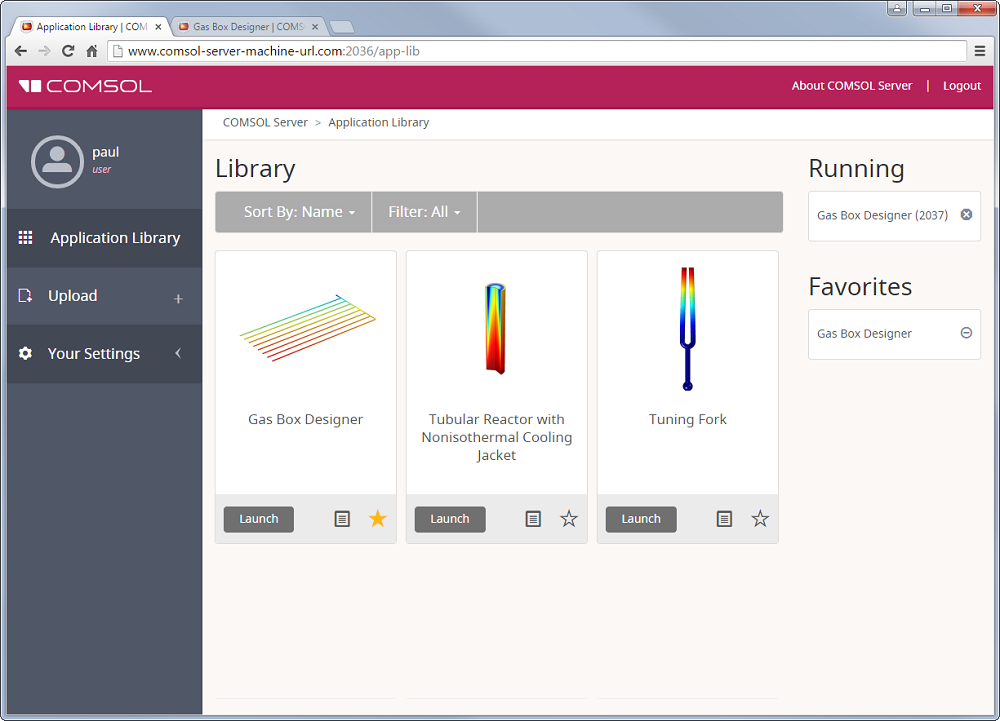 Running COMSOL Server™ in COMSOL Client
An alternative to using a web browser is COMSOL Client for Windows® operating system. This product can be downloaded by itself or installed together with COMSOL Server™. COMSOL Client runs in Windows® and gives you superior graphics performance and the ability to use LiveLink™ products. Do note that this method can only be used with Windows®.
To run an application using this method, open COMSOL Server™ and enter your user information.

This will take you to the same Application Library page, as we saw when following the web browser option. The only difference is that this method will make any app that you run look like a Windows program. Now you have full access to your Application Library and simply have to select an app to use.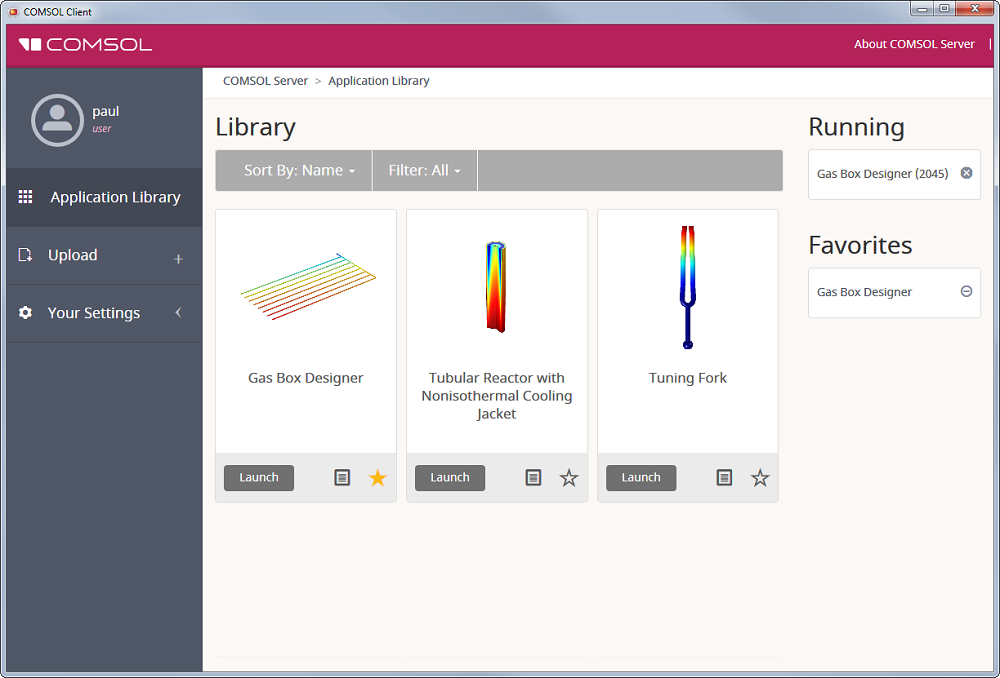 Next Steps
Once logged into COMSOL Server™, you can filter your apps to find whatever you're looking for. If one app is particularly important for your work, favorite it. As an administrator, you can monitor your license and control who can access your apps.
There's a lot you can do with COMSOL Server™. Check out the product page and watch this archived webinar to learn more.