Rotordynamics Module Updates
For users of the Rotordynamics Module, COMSOL Multiphysics
®
version 6.2 introduces new predefined plots for hydrodynamic journal bearings, a new step bearing type, and functionality for determining the equilibrium position in a hydrodynamic thrust bearing. Read more about these updates below.
Unwrapped Plots for Hydrodynamic Journal Bearings
For the Hydrodynamic Bearing interface, a new set of unwrapped predefined plots is available when modeling hydrodynamic journal bearings. This functionality can be used for mapping pressure and velocity plots from 3D cylindrical surfaces to rectangular 2D surfaces. It also makes it easier to interpret pressure distribution and associated velocity fields. You can see these new predefined plots in the existing Comparison of Different Hydrodynamic Bearings tutorial model.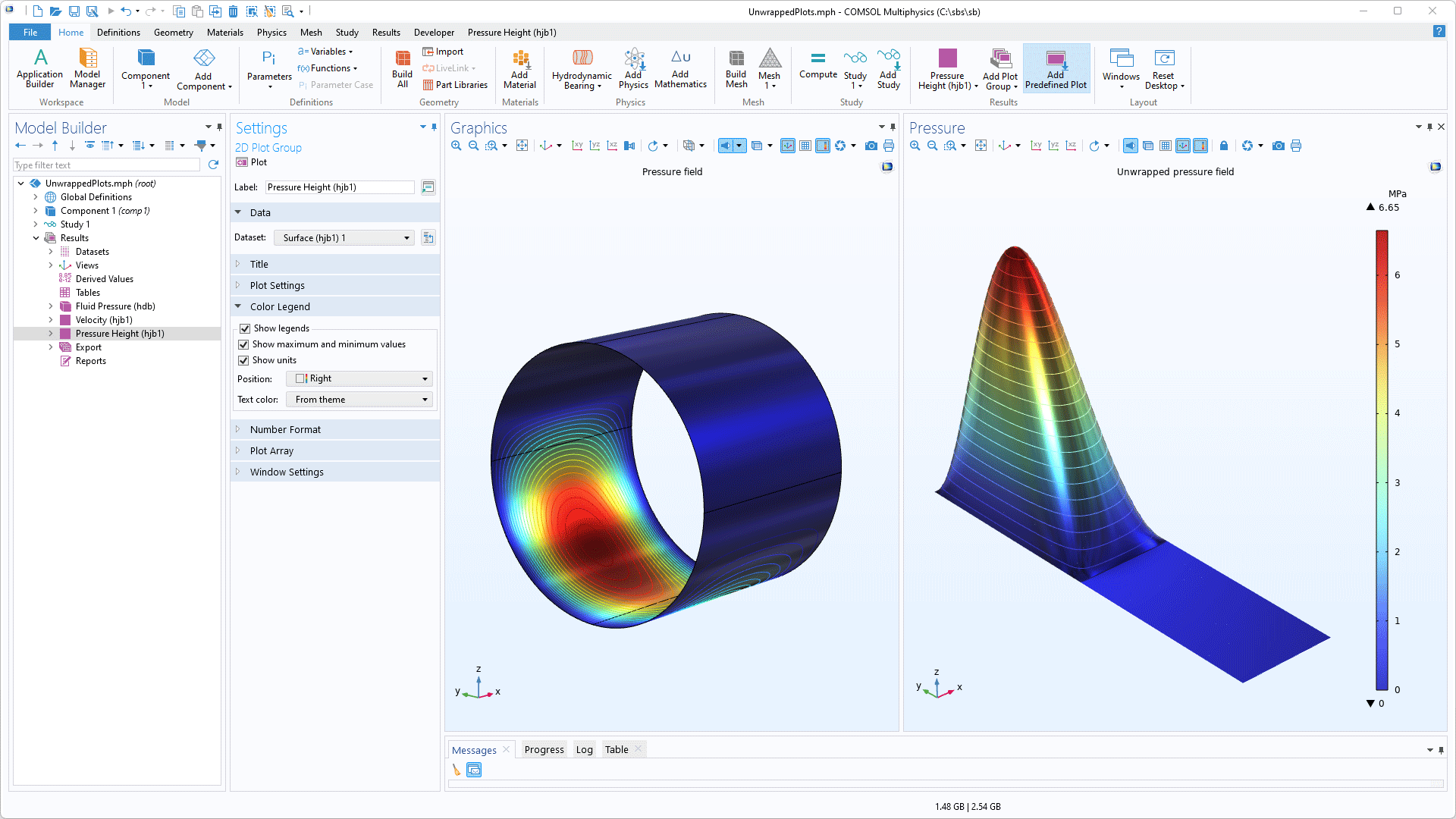 The pressure field of a hydrodynamic bearing visualized on 3D cylindrical and 2D rectangular surfaces.
Step Bearing Type of Hydrodynamic Bearing
A step bearing is a commonly used type of hydrodynamic thrust bearing, and in version 6.2, the Hydrodynamic Thrust Bearing feature in the Hydrodynamic Bearing interface has been extended to include a Step bearing as a predefined bearing type. When selecting this option from the Bearing type list in the Settings window, there are two Groove type options, Constant arc and Constant width. You can see the new step bearing option in the Step Thrust Bearing tutorial model.
Equilibrium Determination in Hydrodynamic Thrust Bearing
When modeling hydrodynamic thrust bearings, the positioning of the collar needs to be calculated based on the bearing load when it is not provided in advance. In the settings of the Hydrodynamic Thrust Bearing feature, a new Load option has been added under the Collar Properties section to easily address this. The new Load functionality determines the equilibrium position in a hydrodynamic thrust bearing based on the force balance between a bearing load and the resulting force from the distributed pressure.