Parade Technologies Improves Workflow Efficiency with Apps
The demand for better performance and increased accuracy in touchscreen devices is growing. Simulation, a fast and cost-effective approach to product development, helps to meet this goal. With each design modification, colleagues will typically rely on you to run simulation tests, awaiting your feedback before reaching out to customers. As researchers at Parade Technologies (formerly Cypress Semiconductor) have discovered, creating apps and distributing them to colleagues is a valuable way to save time and more effectively communicate with customers.
Increasing Demands for Touchscreen Technology
In many modern electronics, from laptops to smartphones, touchscreen technology is becoming the norm. The growing popularity of touchscreen devices, which enable users to directly interact with the displayed information, is driving greater competition across various industries for enhanced performance and accuracy. As such, it is important for designers and engineers to verify that a touchscreen design can perform well under a range of conditions, while maintaining fast time-to-market and low costs.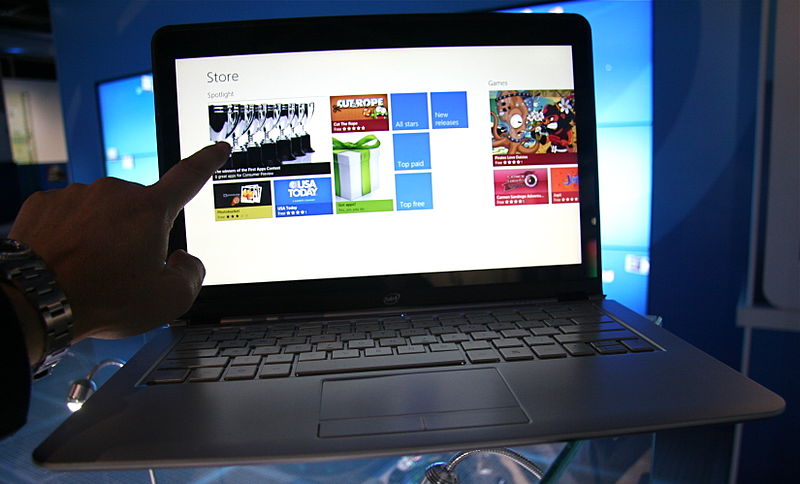 Touchscreen technology is becoming more common in electronic devices, such as laptops. Image by Intel Free Press. CC BY-SA 2.0, via Wikimedia Commons.
A simulation-based approach can help to meet these needs. With simulation platforms like COMSOL Multiphysics, you can study the effectiveness of a product within various environments, isolating specific factors and identifying areas requiring optimization. As tests are performed in a virtual setting, you remove the need for building physical prototypes, reducing the overall product development costs.
Some touchscreen designs may, of course, go through several modifications before their ideal configuration is achieved. This can translate into a rather heavy workload for you, the simulation engineer. As your colleagues rely on you to run each of these tests, they must also wait for the results before communicating feedback to the customers. But what if there was a way to bridge the gap in simulation expertise?
Simulation apps are the answer. As the creator of an app, you can control the parameters that users are able to access, ensuring accuracy in the simulation results. Now, rather than spending time running simulations for every design change, you can empower your colleagues to run their own tests. Not only does this free up time for you to focus on other projects, but it also allows for more efficient communication with customers.
Parade Technologies, a leading supplier of touchscreen technology, is already experiencing similar advantages of building and sharing simulation apps.
Parade Technologies Develops Apps to Save Time and Deliver Faster Simulation Results
Researchers at Parade Technologies help design touchscreen technology for a wide range of applications, including smartphones, automotive environments, and home appliances. For every touchscreen design, simulation plays a key role in its development and optimization. In an article from Multiphysics Simulation 2015, Peter Vavaroutsos, a member of the touchscreen modeling group at Parade Technologies, discussed the value of using COMSOL Multiphysics to study touchscreen technology: "Simulation has been a very valuable tool for ensuring that our product responds effectively over a range of different environments and conditions, since we can single out certain factors and determine how to most effectively optimize performance."
The team is now extending simulation power throughout their organization by using the Application Builder in COMSOL Multiphysics to turn their complex models into easy-to-use apps. In the past, simulation engineers were called upon to run minor parameter changes. And, when sales engineers attempted to run simulations on their own, the experts would have to look over the simulation results to make sure that they were accurate — a process that could be rather time-consuming.
Using apps, the support staff at Parade Technologies is able to confidently make adjustments to design parameters. In the capacitive touchscreen app shown below, users have the ability to modify parameters such as finger location and the thickness of various layers within a touchscreen's capacitive sensor. Additionally, the app creates a report that offers details about the capacitance matrix, information that is key in the development of capacitive sensors.

A touchscreen app created by Parade Technologies (formerly Cypress Semiconductor).
Greater accessibility to simulation power throughout the organization has enabled simulation engineers at Parade Technologies to focus more of their time on developing new technologies, rather than running simulations for every design modification and verifying others' results. Empowered to run their own simulation tests, the support team can now deliver accurate results faster to customers around the world, accelerating the overall design workflow.
Further Reading