Thank You for Attending the COMSOL Conference Bangalore 2012
On November 2-3 the COMSOL conference made its stop in Bangalore, India. This two-day event hosted eminent keynote speakers, user presentations, minicourses, poster sessions, and finally closed with an awards ceremony. Here's a re-cap of the highlights of the COMSOL Conference Bangalore 2012:
COMSOL 4.3a and Builder Tools
The conference was kick-started with the introduction of our latest release, COMSOL Multiphysics version 4.3a. The audience was walked through new features, such as LiveLink™ products for Excel® and Solid Edge®, Amazon EC2™ cloud computing support, and ECAD file import. The introduction to LiveLink™ for Excel® was well-received, and left the audience buzzing with excitement. On Day 2, we introduced everyone to one of our most exciting new developments — COMSOL Builder Tools. This, too, was met with enthusiasm.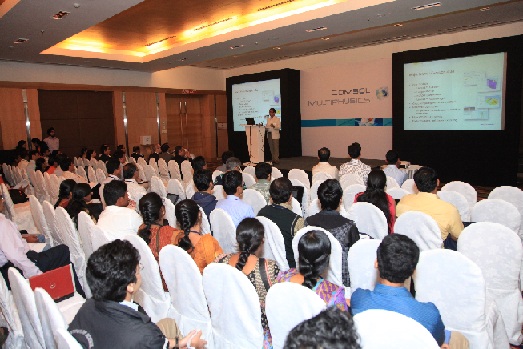 Keynote Sessions
We invited three keynote speakers this year. They included Dr. Rajveer Shekhawat from SecureMeters, Dr. Asim Tewari from the Indian Institute of Technology, and Dr. KK Singh from Bhabha Atomic Research Center.
Dr. Rajveer Shekhawat spoke about innovating product designs using multiphysics modeling and how tools such as COMSOL have aided tremendously in saving time and effort during the design process. Dr. Tewari from the Indian Institute of Technology, gave an engaging talk on modeling micromechanics of eigenstrain in heterogenous media. Dr. Singh gave a wonderful talk on two-phase flow and multiphysics simulations in COMSOL.
All keynote sessions were held in a packed house. I'd like to thank our three keynote speakers for holding these great talks!
User Presentations and Awards
We had close to a hundred user presentations and posters in Bangalore this year. The Best Paper award went to T.V. Shyam of BARC. He presented a paper on "Prototype Probe Development for Liquid Injection Shutdown System Tube Gap Detection by Remote Field Pulsed Eddy Current Technique". Divakaran Mohanraj from IISC took home the Best Academic Paper award for his paper on "Flow of Dry Foam in a Pipe", while Manoranjan Mishra from IIT K received the runner-up award in the same category for his work on miscible viscous fingering.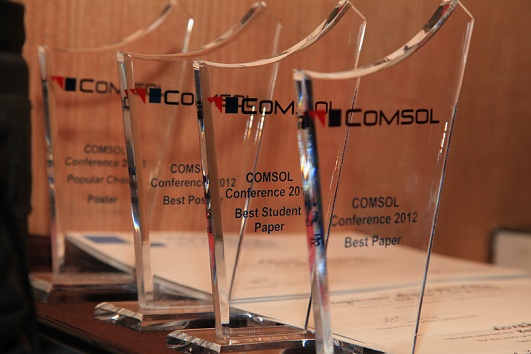 The Best Poster award went to Logeshkumar Shanmugasundharam from Kumaraguru College of Technology. He presented a poster in the area of MEMS and Structural Mechanics. We also had a Popular Choice category where attendees got to vote for their favorite poster. This award was earned by Mahendra Nandanwar and his group from IISC for their poster on "Modeling of Lead-acid Flow Battery". The runners-up in this category were Kavitha Kadirvelu and group from PSG College of Technology. They presented a poster titled "Design and Simulation of a Cantilever Array for Fluid Flow Sensing Applications".
Congratulations to all of you!
Facebook Contest
We had some fun with social media, too. Attendees went on Facebook for some friendly competition with a chance to win a prize. They posted comments about the conference on the COMSOL Facebook page. The post with the most number of "likes" would then win an Apple® iPod Shuffle®.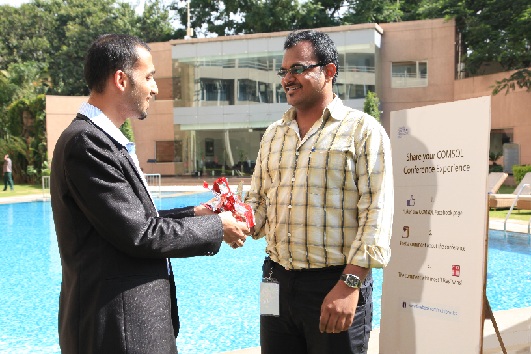 The winner was crowned during lunch on the second day of the conference. Srinithin Kollipara, a student of IIT Kharagpur, won the contest with a whopping 152 likes for his comment. The activity was high, and it was fun to read everyone's comments about the event.
Many thanks to those of you who attended; you helped make this conference a success. See you again next year!
Apple® and iPod Shuffle® are registered trademarks of Apple Inc. The COMSOL Conference Bangalore Facebook Contest Winner has not been authorized, sponsored, or otherwise approved by Apple Inc. Excel is a registered trademark of Microsoft Corporation.Solid Edge is a registered trademark of Siemens Product Lifecycle Management Software Inc. Amazon EC2 and Amazon Elastic Compute Cloud are trademarks of Amazon Web Services, LLC or its affiliates.