The North Pole Models Product Distribution Challenges for the Holidays
Today, we have the pleasure of welcoming a very special guest blogger who works for our largest and oldest customer. This organization is very well known, and although you might sometimes forget they exist, they've certainly been keeping tabs on you. Although they have a perfect track record of customer satisfaction, this year they had some concerns about their annual product release. Let's find out how COMSOL was able to help this very special customer at the North Pole.
A Very Special Support Case…
As the year draws to a close, our team of elves have been hard at work in our workshops, putting together toys and presents for young and old alike. You might think that we're a very traditional organization, but we've always been at the cutting edge of technology. For example, our research into bioluminescence helps Santa find his way through the night.
We've been using the COMSOL Multiphysics® software for many years now, and this year, we had a problem that we were able to solve right away using some new functionality in COMSOL Multiphysics version 5.6.
A few days ago, Mrs. Claus came to us with a concern. It turns out that Santa, who has been sheltering in place all year, was eating a lot more cookie dough than usual. Mrs. Claus was worried that Santa might not fit down all of the chimneys, so she asked us to investigate. She was nice enough to give us a recent image of Santa, along with some annotations describing the problem.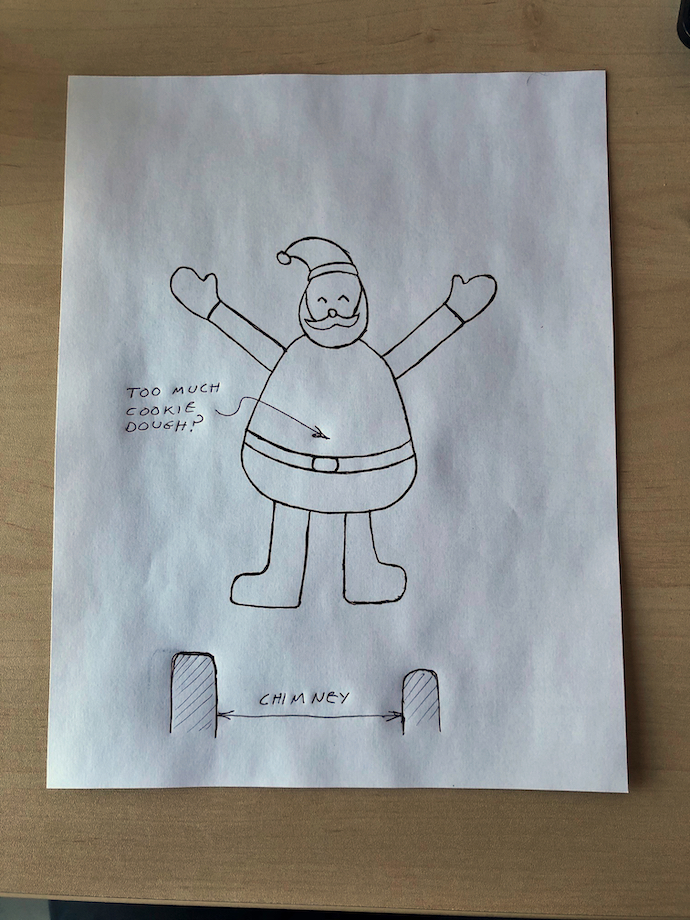 A typical engineering problem statement.
This problem would cause major disruptions in our product distribution process, so we immediately sprung into action. Now, truth be told, this wasn't a normal engineering task for us, so we reached out to the always helpful staff at COMSOL Technical Support and asked them how best to address this case. They responded right away with several helpful resources that got us on our way.
Simulating Santa
We were able to make use of the new Dynamic Contact feature in version 5.6 as well as a handy new add-in that let us work directly with the image we had. We did also have to perform some quick experiments to get our material data. Once we had all of the pieces, we put together a model and were able to simulate our product distribution process.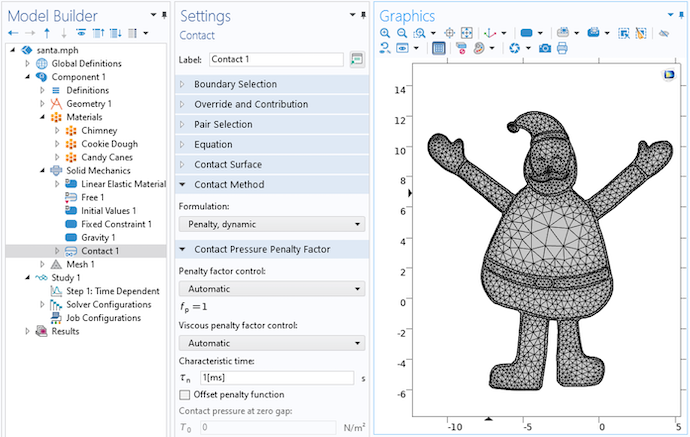 We're checking our mesh, we're checking it twice.
Let's take a look…
As you can see, Santa makes it through the chimney just fine!
Happy Holidays!
Mrs. Claus was happy to see this and sent special thanks to all of the elves — both here and on the COMSOL Support Team.
From all of us, happy holidays, stay safe, and best wishes for 2021!
About the Author
Winter Frost is a senior elf engineer in Santa's workshop, specializing in product distribution and shape optimization of candy canes.