How to Organize Your Simulation App Using Subforms
An important element in the design of any simulation app is organization. Maintaining an orderly structure makes it easier for you to build the app and also enhances the usability experience for app users. Today, we will show you how to create organized apps in COMSOL Multiphysics with the help of subforms and form collections.
Staying Organized When Building Apps
When building a simulation app, you have the freedom and flexibility of customizing your app's layout to meet specific design needs. Using resources such as forms and form objects, you can control the design of your app's user interface (UI), including only those elements that are relevant to your particular analysis. Such customization allows you to develop a UI for your app that is both intuitive and easy-to-use.
As more and more forms and form objects are implemented within your app, the complexity of the app will increase. Staying organized throughout this process is rather important, as it helps you stay on track from start to finish. Form collections and subforms are helpful tools for building organized apps, benefiting both you and your end-users.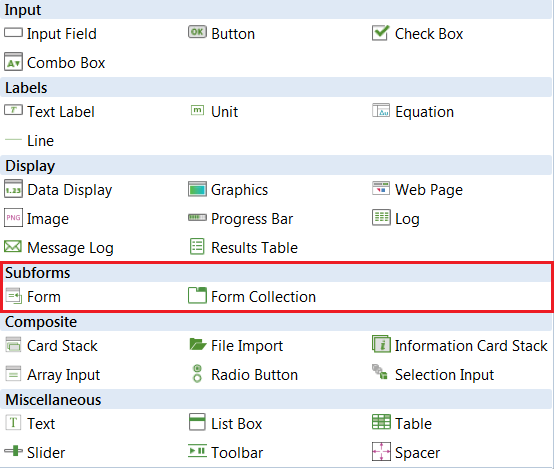 The list of form objects with "Subforms" highlighted. These must be added if you want to use multiple forms in one app interface.
Here, in Part 3 of our Introduction to Application Builder Videos series, we demonstrate how you can use subforms to create organized simulation apps. We will also show you how to rename forms and form objects — a best practice when designing simulation apps.
Video Tutorial: How To Use Subforms to Organize Your COMSOL App
Further Reading