Happy Birthday, Angelo Moriondo
Many people look forward to their cup of coffee each morning. For some, that coffee is a foamy cappuccino; for others, it's a sharp shot of espresso — either way, many popular morning pick-me-ups require the use of an espresso machine. Today, let's celebrate the person who built the first espresso machine and explore how his work influenced how we brew espresso drinks today.
The Life and Work of Angelo Moriondo
On June 6, 1851, Angelo Moriondo was born in Turin, Italy. He was raised in a family known for entrepreneurship within the food and beverage industry. His grandfather, for example, founded a company that produced liqueur, and Moriondo's father, on top of continuing the liqueur company, founded a chocolate company with his brother and cousin. Following in the footsteps of the entrepreneurs around him, Angelo Moriondo purchased two businesses in Turin: the Grand-Hotel Ligure in Piazza Carlo Felice and the American Bar in the Galleria Nazionale of Via Roma. The need to provide quick coffee service at these establishments led Moriondo to design the device he is now most famous for: the earliest known espresso machine.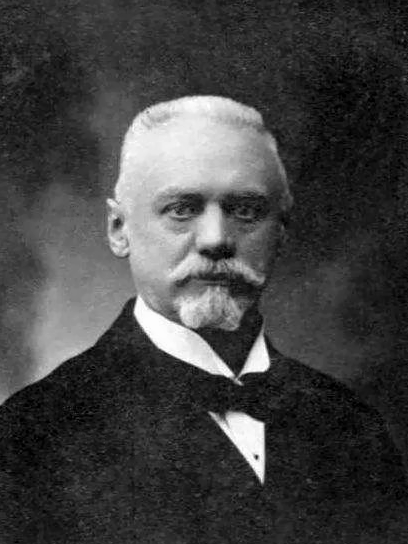 Angelo Moriondo. Image by Richie Bendall. Licensed under the Creative Commons CC0 1.0, via Wikimedia Commons.
The first espresso machine — designed by Moriondo and built by a mechanic named Martina — relied on boiling water and steam to brew coffee in mass amounts (as opposed to brewing single servings like many modern espresso machines). It was the first coffee-brewing machine to use both steam and water, and it included two boilers: one larger boiler that pushed hot water through the coffee grounds and a second boiler that blasted the grounds with steam.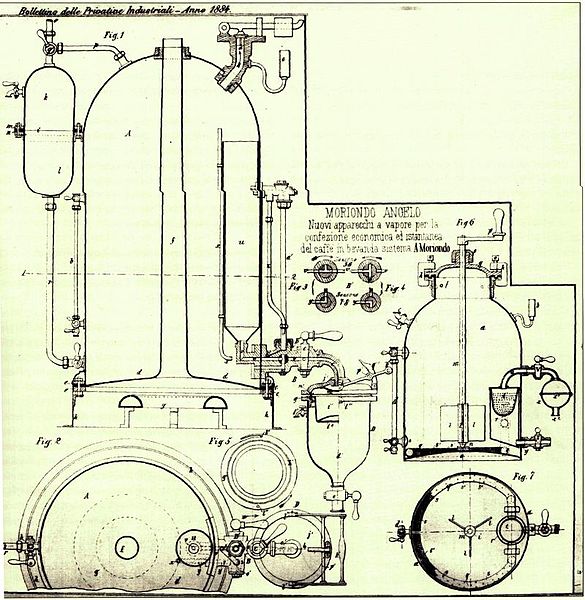 Sketch of Moriondo's patented design. This work is in the public domain in its country of origin and other countries and areas where the copyright term is the author's life plus 70 years or less, via Wikimedia Commons.
Moriondo presented the machine in 1884 at the General Expo of Turin and received a bronze medal. He also received a patent for the design, titled "New steam machinery for the economic and instantaneous confection of coffee beverage, method 'A. Moriondo'".
Despite the success of the device at the expo, there is no record of it being commercialized. However, that does not mean that Moriondo's design didn't inspire the future of espresso machines.
How Moriondo's Design Influenced Future Espresso Machines
Inventor and mechanic Luigi Bezzera played a major role in the pipeline from Moriondo's design to the modern espresso machine. Bezzera added several elements to Moriondo's design (such as a portafilter and heat radiators) to create the first single-shot espresso machine, which could brew espresso in a matter of seconds. He received a patent for his design in 1902.

An espresso being made with a modern portafilter (i.e., the "handle" that holds the grounds). Image licensed under CC BY-SA 4.0, via Wikimedia Commons.
One challenge of Bezzera's design was that it required an open flame, which made it difficult to control the pressure and temperature and keep the brewing consistent. The funds needed to improve this design came in 1903 when Desiderio Pavoni bought Bezzera's patent. Pavoni enhanced Bezzera's model with his invention of the pressure release valve, which prevented coffee from splashing baristas, and the steam wand, which enabled baristas to access the steam inside the boiler to froth milk.
Pavoni and Bezzera worked together to finalize the design, which Pavoni called the Ideale. They first presented it at the World Expo in Milan in 1906.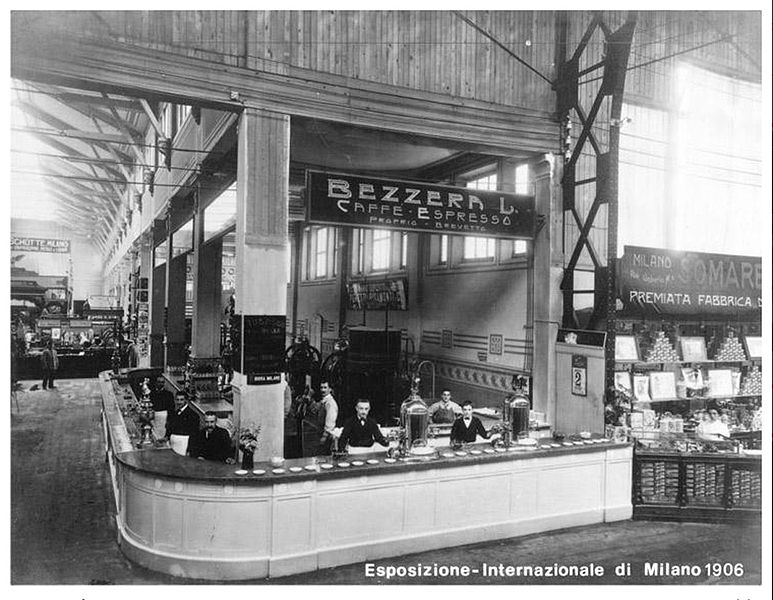 Luigi Bezzera at the World Expo in 1906. This work is in the public domain in its country of origin and other countries and areas where the copyright term is the author's life plus 70 years or less, via Wikimedia Commons.
After the expo, Pavoni produced this model commercially. As technology evolved over the years, Pavoni continued to make updates to the machine, and was known as a leading seller of espresso machines for more than a decade. There were, of course, many other inventors who were inspired by the work of Bezzera and Pavoni who decided to design their own espresso machines, but the credit for this inspiration cannot go to Bezzera and Pavoni wholly. Without Angelo Moriondo, their design wouldn't have come to fruition.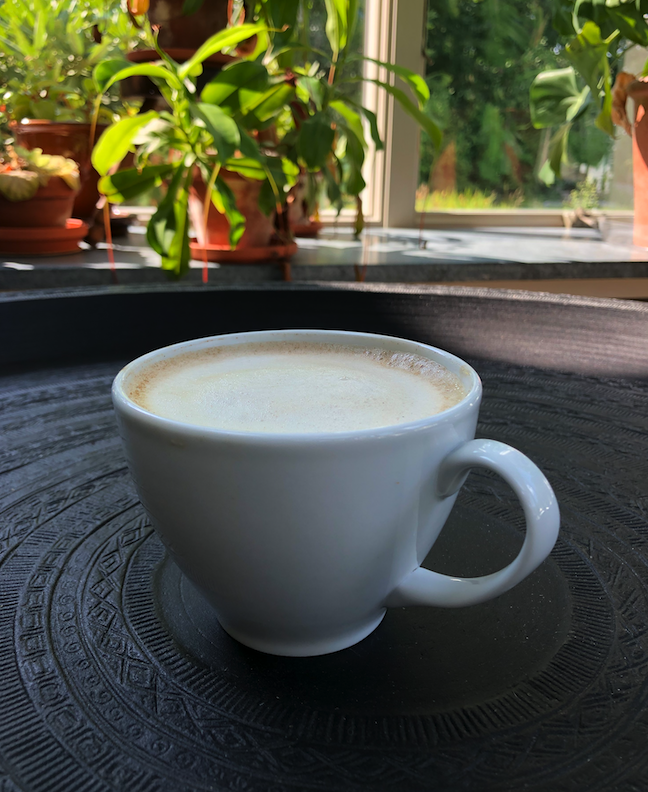 A cappuccino, just one of the many drinks that is made with espresso.
Let's raise a cup to wish Angelo Moriondo a happy birthday and remember him for his unforgettable contribution to brewing espresso!
Reading Tips
Enjoy a cup of coffee and check out some of these resources…
Read about the life and work of other inventors on the COMSOL Blog:

Norbert Rillieux, inventor of the multiple-effect vacuum evaporator, which revolutionized the sugar processing
George Westinghouse, electrical pioneer who invented the railway air brake
Charles F. Brush, inventor of the first automatically operated wind turbine generator

See how simulation can be used for coffee-related analysis, specifically in regards to heat transfer modeling, on the COMSOL Blog: