Learning to Solve Multiphysics Problems Effectively
One of the questions we get asked often is how to learn to solve multiphysics problems effectively. Over the last several weeks, I've been writing a series of blog posts addressing the core functionality of the COMSOL Multiphysics software. These posts are designed to give you an understanding of the key concepts behind developing accurate multiphysics models efficiently. Today, I'll review the series as a whole.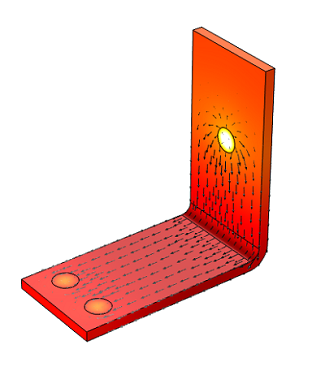 Coupled electro-thermal analysis of a busbar.
Solutions to Linear Static Finite Element Problems
In the first part of this series, we introduced the concept of a linear static finite element problem, in terms of a single unknown. Although this example appears quite simple, it introduces the basic algorithm used by the software, talks about some numerical issues, and shows how we can interpret the log files. From there, it is a small step up to deal with problems involving more than one degree of freedom. Of course, as soon as we do so, we have to start thinking about the meshing of our geometry. In the second post we introduced the concepts of geometric and solution discretization, element order, adaptive mesh refinement, and how to perform a mesh refinement study.
From there, we addressed in more detail some of the issues that can arise in meshing. In particular, you always need to be aware that your model may contain singularities, which can be addressed in different ways. We also spoke about the various types of finite elements that you could use and why you would choose different element types.
Of course, the whole point of meshing is to get a model that gives accurate results, while still solving in a reasonable amount of time. It is also important to understand that different types of solvers can be used to solve the same problem, and we introduced the two classes of algorithms that can be used, and how the behavior of these solvers can tell us something about our problem set-up.
Solutions to Nonlinear Static Problems
The next step up in complexity is to address the case of a single-physics nonlinear finite element problem. We learned about the solution methods used for nonlinear problems, and why a problem may not converge, as well as how to interpret the log file. Since the solutions to nonlinear problems can be highly dependent upon the solution method, we then introduced two methods for improving convergence of nonlinear problems: Load ramping, and nonlinearity ramping.
From there, we next spoke about meshing for nonlinear problems. This post concluded with a link to the Cooling and Solidification of Metal model, which is an example that was specifically written to demonstrate all of the techniques described herein.
Solutions of Multiphysics Problems
Finally, the series was wrapped up with two blog posts. The first one was on solving of multiphysics problems, where we learned that solution techniques for such problems are conceptually almost identical to the techniques we learned about previously. The concept of a fully coupled and a segregated solution method was introduced, and their relative merits were addressed. From there, we finished up with the post Improving Convergence of Multiphysics Problems, where we talked about some approaches for improving convergence and alternative solution techniques.
Key Points from the Solver Series
This series of posts has been written for the express purpose of showing how to solve complex problems involving several physics. Whenever we are solving such problems, we need to keep in mind not just one, but all of the points discussed here, and how they can interact. Once you have mastered all of the information provided in the Solver series, your finite element multiphysics modeling will become more efficient and effective. Happy Modeling!