COMSOL Certified Consultants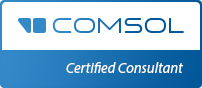 COMSOL Certified Consultants use their extensive experience with COMSOL Multiphysics and our related products to deliver turnkey solutions for a wide range of modeling projects. They produce ready-to-run models and reports with an in-depth analysis of the simulation results.
Click on the name of a certified consultant below to learn about the services they offer, or find certified consultants with a specific area of expertise by using the search tool.
COMSOL designates certain persons or companies to be Certified Consultants based on that person or company's reported proficiency with using COMSOL's software products and based on standards that COMSOL sets and revises from time to time. COMSOL does not participate in any Certified Consultant's delivery of products or services. COMSOL has not made any determination that any particular Certified Consultant possesses the requisite skills or experience for your needs and encourages you to make inquiry of a Certified Consultant in order to make that determination for yourself.