Material Library
Augment Your COMSOL Multiphysics® Models with Material Properties from the Material Library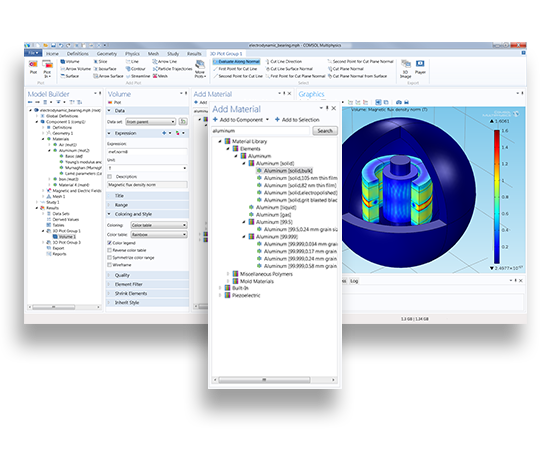 Over 10,328 Materials with up to 42 Key Properties Each
COMSOL Multiphysics gives you complete control over both the definitions and use of your material properties through the Model Builder and Material Browser. The Material Browser allows you to manage all of your model's materials in one place, and can be complemented by the Material Library. The library contains data for 10,328 materials – including the elements, minerals, metal alloys, thermal insulators, semiconductors, and piezoelectric materials.
Each material is represented by referenced property functions, for as many as 42 key properties that are dependent on some variable (typically, temperature). You can plot and inspect these function definitions, as well as add to and alter them. They can then be used in any other physics simulation couplings that also depend on the property function variable in your multiphysics modeling.
Available Materials:
The Elements
Fe & Ni Alloys
Al & Cu Alloys
Mg & Ti Alloys
Zn & Precious Metal Alloys
Oxides
Carbides, Cermets, & Tool Steels
Carbons & Thermal Insulation
Intermetallics, Thermal Barries Coatings, & Refractory Metals
Polyamides & Polyesters
Acetal, PVDF, & EVA
Elastomers & Epoxies
Misc. Polymers & Polymer Composites
Minerals, Rock, Soil & Woods
Polypropylenes & pet
Controlled Expansion & Thermocouple Alloys
Semiconductors, Optical, & Other Materials
Solders, Dental & Co Alloys
Resistance & Magnetic Alloys
Metal Matrix & Ceramic Matrix Composites
Salts, Fuel Cell, Battery & Electroceramics
Silicides & Borides
Glasses, Metallic Glasses, Nitrides, & Beryllides
Cast Irons & Mold Materials
Organics, Hydrocarbons, and Foods
Every business and every simulation need is different.
In order to fully evaluate whether or not the COMSOL Multiphysics® software will meet your requirements, you need to contact us. By talking to one of our sales representatives, you will get personalized recommendations and fully documented examples to help you get the most out of your evaluation and guide you to choose the best license option to suit your needs.
Just click on the "Contact COMSOL" button, fill in your contact details and any specific comments or questions, and submit. You will receive a response from a sales representative within one business day.
Next Step
Request a Software Demonstration