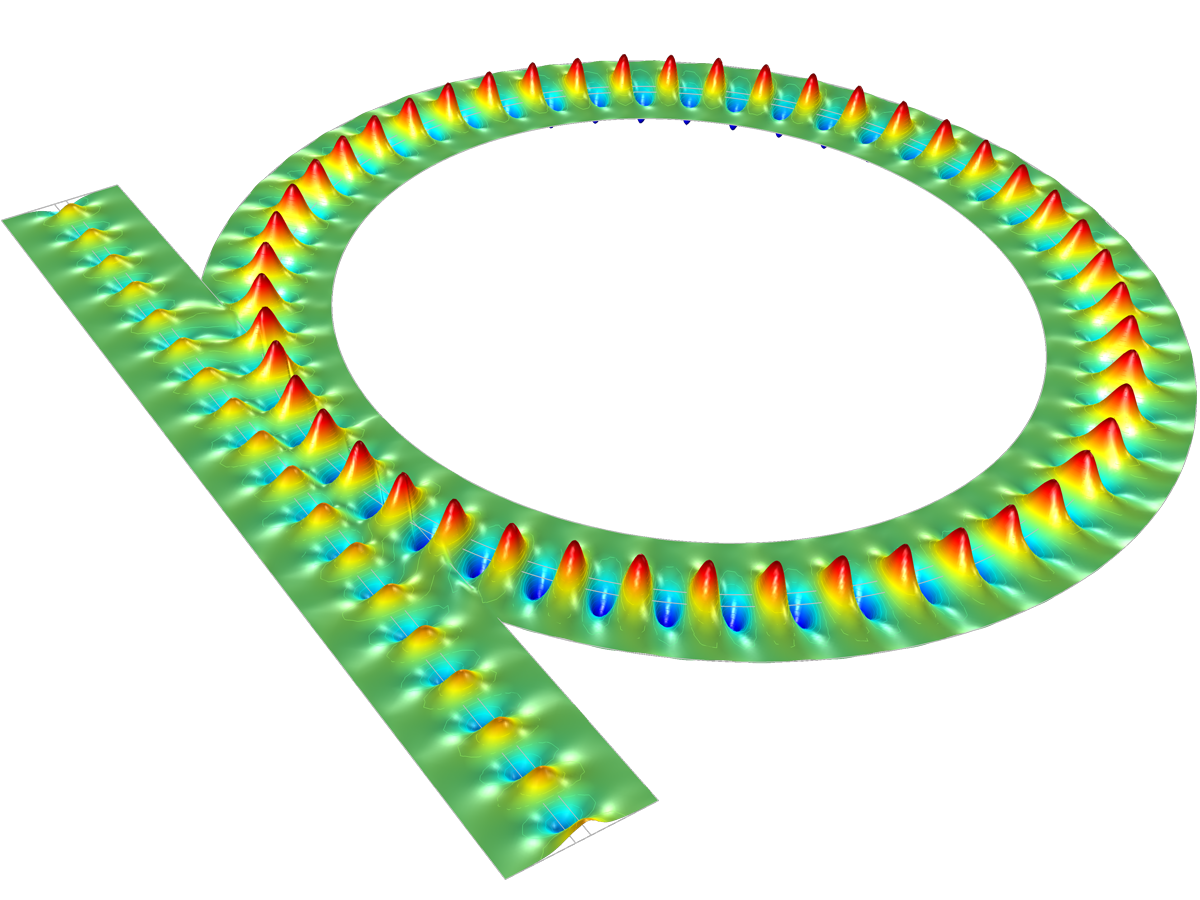 Analyze Micro- and Nano-Optical Devices with the Wave Optics Module
Simulation Software for Optimizing Optical Devices
Simulation can be used to validate optical system designs with experimental data and theory. However, traditional simulation methods for optically large structures, where the geometry is much larger than the electromagnetic wavelength, can be computationally expensive and time consuming. The Wave Optics Module, an add-on to the COMSOL Multiphysics® platform software, is an efficient choice for your optical modeling needs.
The Wave Optics Module includes a specialized beam envelope method that can be used to simulate optically large devices with far fewer computational resources than traditional methods. There are features available for modeling optical systems, such as domain polarization, which is useful for nonlinear wave propagation. The material library includes dispersion relations for the refractive indices of more than 1400 materials, including a large number of glasses used for lenses, semiconductor materials, and in other areas.
In order to optimize designs for photonic devices, integrated optics, optical waveguides, couplers, fiber optics, and more, you need to account for real-world scenarios. With the multiphysics modeling capabilities of the COMSOL® software, you can study how other physics affect optical structures; for instance, laser heating, carrier transport in semiconductors, and stress-optical effects.
Model Optically Large Problems with the Beam Envelope Method
Wave optics requires a numerical method that can efficiently model and solve complex problems. The beam envelope method analyzes the slowly varying electric field envelope for optically large simulations without relying on traditional approximations. It requires much fewer mesh elements to resolve each propagating wave when compared to traditional methods.
Did You Know? The beam envelope method is a simulation method for laser heating and accurately solves for fields and losses near the focus of the beam, when the heated domain is large in comparison to the wavelength.
The beam envelope method is an efficient and reliable choice for wave optics simulations. Equally important, the Wave Optics Module offers a traditional full-wave propagation method that is based on direct discretization of Maxwell's equations. Both methods are based on the finite element method (FEM).
What You Get with the Wave Optics Module
The Wave Optics Module provides features for specialized wave optics modeling when combined with the core functionality of the COMSOL Multiphysics® software platform.
The Wave Optics Module includes tools for modeling:
Photonic devices
Integrated optics
Optical waveguides
Couplers
Fiber optics
Photonic crystals
Nonlinear optics
Harmonic generation with frequency mixing
Lasers

Rod lasers
Slab lasers
Disk lasers
Semiconductor lasers
Laser heating
Laser beam propagation

Plasmons and plasmonic devices
Gratings

Fiber Bragg gratings
Hexagonal gratings

Scattering

Optical scattering
Surface scattering
Nanoparticle scattering

Polaritons
Terahertz devices
Amplifiers
Optical lithography
Optoelectronics
Optical sensors
Metamaterials
Holographic data storage
Graphene
Multiphysics couplings:
Included with the Wave Optics Module:
Accessible with additional modules:
Optoelectronics including semiconductor physics
Component performance changes due to structural deformation, stress, and thermal expansion
Electro-optical (EO) effects
Magneto-optical (MO) effects
Stress-optical (SO) effects
Acousto-optical (AO) effects
Ray optics coupled with wave optics
Wave Optics Module Features and Functionality
Explore the features and functionality of the Wave Optics Module in more detail by expanding the sections below.
Develop Photonic Devices and Optical Waveguides for the Real World
If you want the design of your optical structure or device to operate in the real world, you need to examine how other types of physics affect it. Easily couple different physical effects in one analysis with the COMSOL Multiphysics® software and the Wave Optics Module.
Many wave optics applications involve multiple physics, including heat transfer in laser heating, structural mechanics in stress optics, and semiconductor lasers, to name a few. With multiphysics simulation, you can couple all of these physical effects into the same modeling environment for comprehensive simulation research.
Is there another physics area affecting your end-product? Mix and match the Wave Optics Module with any module you want, all of which seamlessly integrate with the core COMSOL Multiphysics® software platform. This means that your modeling workflow remains the same, regardless of the application area or physics you are modeling.
Every business and every simulation need is different.
In order to fully evaluate whether or not the COMSOL Multiphysics® software will meet your requirements, you need to contact us. By talking to one of our sales representatives, you will get personalized recommendations and fully documented examples to help you get the most out of your evaluation and guide you to choose the best license option to suit your needs.
Just click on the "Contact COMSOL" button, fill in your contact details and any specific comments or questions, and submit. You will receive a response from a sales representative within one business day.
Next Step:
Request a Software Demonstration