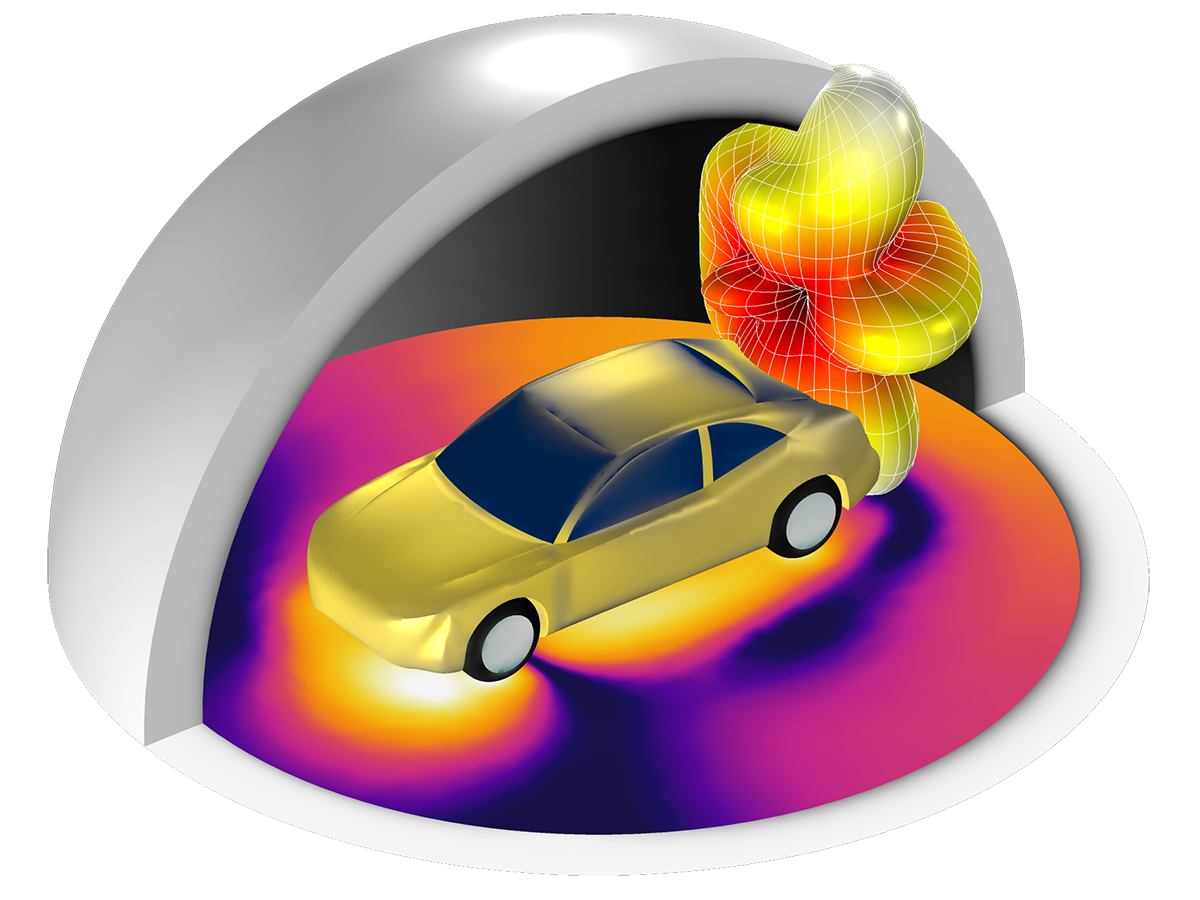 Create RF, Microwave, and Millimeter-Wave Designs with the RF Module
RF Modeling Software for Optimizing Electromagnetics Devices
Designers of RF and microwave devices need to ensure that the electromagnetics simulations are reliable and robust. Traditional electromagnetic modeling lets you examine RF physics alone, but no real-world product operates under just one branch of physics. To see how other physics phenomena affect the design, you need multiphysics modeling, which allows you to extend the model to include effects such as temperature rise, structural deformations, and fluid flow.
With the RF Module expansion of the COMSOL Multiphysics® simulation platform, you can analyze RF designs in multiphysics scenarios, including microwave and RF heating, all within the same software environment.
Design for the Present and Future with the RF Module
Products, components, and devices can always be improved. With the RF Module, you can optimize designs by investigating effects such as electromagnetic wave propagation, microwave heating, and RF heating — ensuring that you create the best products possible and get ahead of others in your field.
In the fast-paced RF, microwave, and millimeter-wave industries, product development must keep up with advancements in technology. For example, antennas and RF front ends; including filters, couplers, power dividers, and impedance matching circuits; should be compatible with future developments, such as the 5G MIMO network, Internet of Things (IoT), and SatCom.
It is also important to evaluate RF interference and compatibility in wireless communication platforms for the seamless operation of your products for developing applications, including wearable devices, autonomous vehicles, and state-of-the-art microwave and RF products.
Ensure that your organization is ready to embrace these new technologies, and whatever comes next, with the COMSOL® software.
What You Get with the RF Module
When you expand COMSOL Multiphysics® with the RF Module, you can access features for specialized RF and microwave modeling, in addition to the core functionality of the COMSOL Multiphysics® software platform.
The RF Module includes tools for modeling:
Antennas
Far-field radiation patterns
Antenna gain and directivity
S-parameters
Input impedance
Phased arrays
Circuits
RFID
Biomedical devices
Microwave sintering and spectroscopy
Bandpass-filter type devices
Metamaterials and integrated plasmonics
Nanostructures
Millimeter-wave and terahertz radiation
Resonators and filters
Couplers and power dividers
Ferrimagnetic devices
Near-field communication
Bloch-Floquet periodic arrays and structures
SAR calculations
Microwave ovens
Scattering and cross radiation
Transmission lines
Microstrips
Coplanar waveguides
Substrate integrated waveguides (SIW)
Frequency tunable devices
RF MEMS
EMI/EMC
Multiphysics Couplings
Included in the RF Module:
Electromagnetic heating
Temperature-dependent material properties
Electromagnetic-field-dependent material properties
Strain- and stress-dependent material properties and deformed geometry
Accessible with additional modules:
Bioheating and biomedical therapy such as microwave ablation and millimeter-wave cancer tissue diagnosis
Performance impact due to thermal stress and mechanical deformation
Ferrites with magnetic field biasing
Piezoelectrically actuated tunable filters
Microwave plasma
Dielectrophoresis
Radiative heat losses
RF Module Features and Functionality
Explore the features and functionality of the RF Module in more detail by expanding the sections below.
Develop Microwave and Millimeter-Wave Circuits, Antennas, and Metamaterials for the Real World
In order for RF products, devices, and components to safely operate in the real world, the simulated designs need to be viable. You can analyze how multiple physics affect RF designs by using the COMSOL Multiphysics® software and the specialized add-on RF Module.
Most of the RF components, devices, and products you design are affected by some other branch of physics, whether it be heat transfer, plasma, or structural mechanics, to name a few. For the most accurate study possible, you need to be able to simultaneously examine a variety of these effects. You can couple all of the necessary physical effects in the same modeling environment with the RF Module expansion of COMSOL Multiphysics®, thus streamlining your research.
Is there another specific physics area affecting your end-product that you need to investigate? You can mix and match the RF Module with any add-on module or LiveLink™ product from the product suite, all of which seamlessly integrate with the core COMSOL Multiphysics® software platform. This means that your modeling workflow remains the same regardless of the application area or physics you are modeling.
A conical dielectric probe used for skin cancer diagnosis is modeled by coupling heat transfer and RF physics. 2D axisymmetry allows for a quick analysis of the circular waveguide at the dominant mode and the probe and its radiation characteristics.
Every business and every simulation need is different.
In order to fully evaluate whether or not the COMSOL Multiphysics® software will meet your requirements, you need to contact us. By talking to one of our sales representatives, you will get personalized recommendations and fully documented examples to help you get the most out of your evaluation and guide you to choose the best license option to suit your needs.
Just click on the "Contact COMSOL" button, fill in your contact details and any specific comments or questions, and submit. You will receive a response from a sales representative within one business day.
Next Step:
Request a Software Demonstration