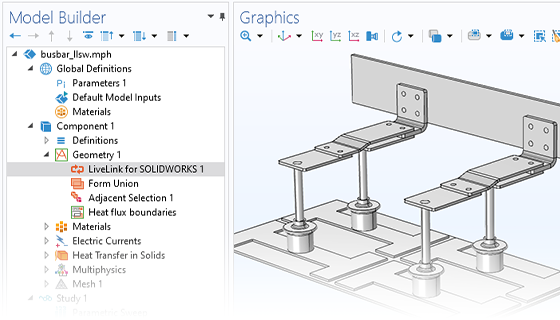 Synchronize CAD Geometries in SOLIDWORKS® and COMSOL Multiphysics®
LiveLink™ for SOLIDWORKS® enables synchronization between your COMSOL® model geometry and the corresponding SOLIDWORKS® CAD file. LiveLink™ for SOLIDWORKS® ensures that design changes are propagated automatically, eliminating the need to import and export your designs each time they are updated. When synchronizing the geometry between the two programs, material and physics definitions as well as boundary conditions remain associated with their respective CAD entity, even when a design has changed. LiveLink™ for SOLIDWORKS® also keeps track of the synchronized file's name and path, as well as the configuration and display state, to prevent synchronizing an incorrect document.
The LiveLink™ for SOLIDWORKS® functionality includes several options for importing the geometry into COMSOL Multiphysics® from SOLIDWORKS®. The length unit can be taken from the CAD document (the default option) or COMSOL®. The objects that you import from SOLIDWORKS® will include solids, surfaces, curves, and points, but you can choose to exclude any of these if they are not applicable to the simulation.